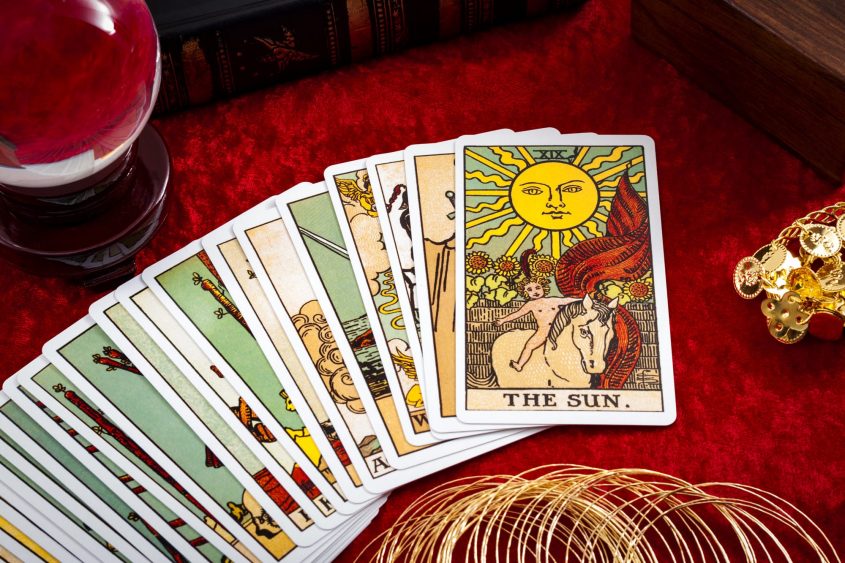 Tarot, a mystical practice that has intrigued and fascinated people for centuries, is a powerful tool for self-discovery and divination. Rooted in ancient history, tarot cards have a rich and enigmatic past. Understanding the tarot deck is essential to unlocking its secrets and harnessing its wisdom. With its unique symbolism and archetypal images, each card holds a wealth of meaning and insight. Used for divination, tarot provides guidance and clarity, revealing the hidden truths and possibilities that lie within our lives. But tarot is not just a tool for predicting the future; it is also a means for self-reflection and personal growth. By exploring the messages and lessons of the cards, we can gain a deeper understanding of ourselves and the world around us. Tarot goes beyond the realm of the physical, delving into the spiritual aspect of our existence. Whether you are a believer or a skeptic, the spiritual significance of tarot cannot be denied. In this article, we will delve into the history, symbolism, and spiritual significance of tarot to uncover what makes it such a profound and transformative practice.
The History of Tarot Cards
Now, let me take you back in time to the fascinating origins of tarot cards. Tarot cards, although commonly associated with divination and fortune-telling today, actually have a rich history that stretches back several centuries. The exact origins of tarot are still shrouded in mystery, but it is believed that they originated in Europe during the late 14th century. Originally, tarot cards were used primarily for playing card games rather than for mystical purposes. It wasn't until the 18th century that tarot cards started to be associated with occult practices and divination. Over time, the imagery and symbolism of the cards evolved, with different decks being created to suit various interpretations and beliefs. Today, tarot cards continue to captivate people with their enigmatic and insightful nature.
Understanding the Tarot Deck
To truly grasp the essence of the Tarot deck, you'll need to delve into its intricate symbolism and rich history. The Tarot deck is composed of 78 cards, each with its own unique imagery and meaning. These cards are divided into two main categories: the Major Arcana and the Minor Arcana. The Major Arcana consists of 22 cards that represent major life events and spiritual lessons. These cards include iconic figures such as The Fool, The Magician, and The Lovers. On the other hand, the Minor Arcana consists of 56 cards, divided into four suits: Wands, Cups, Swords, and Pentacles. These cards represent everyday situations and emotions. Understanding the Tarot deck requires studying the individual cards, their symbols, and their relationships with one another. It is through this exploration that one can unlock the profound wisdom and guidance that the Tarot offers.
Using Tarot for Divination
Utilizing the deck's intricate imagery and evocative symbolism, one can tap into the ancient art of divination. Tarot cards have long been used as a tool for gaining insight into the past, present, and future. Each card carries its own unique meaning and when combined with other cards in a spread, they create a narrative that can provide guidance and clarity. The process of using tarot for divination typically involves asking a specific question or focusing on a particular area of life. The reader then shuffles the deck and lays out a spread, interpreting the cards based on their position and the overall energy they convey. Tarot readings can offer valuable insights and help individuals navigate through life's uncertainties with a sense of direction and purpose.
Tarot and Self-Reflection
Take a moment to gaze upon the intricate illustrations and immerse yourself in the rich symbolism, allowing the cards to guide you on a journey of self-reflection and introspection. Tarot, with its powerful imagery and archetypal meanings, can serve as a tool for delving deep into our inner selves. Each card represents different aspects of our lives and personalities, offering insights and perspectives that can help us gain a better understanding of who we are and the patterns that shape our experiences. Through tarot, we can explore our fears, desires, strengths, and weaknesses, uncovering hidden truths and gaining clarity on our path forward. This process of self-reflection allows us to cultivate self-awareness, make conscious choices, and ultimately grow and evolve as individuals. Tarot becomes a mirror through which we can see ourselves more clearly and embark on a profound journey of self-discovery.
The Spiritual Significance of Tarot
Immerse yourself in the spiritual significance of tarot as you delve into the intricate symbolism and archetypal meanings of the cards, allowing them to guide you on a transformative journey of self-discovery. The spiritual aspect of tarot lies in its ability to tap into the collective unconscious and connect with higher realms of consciousness. Each card represents a universal truth or spiritual lesson, offering insights and guidance that can help navigate life's challenges and choices. Tarot readings can provide a deeper understanding of oneself, illuminating hidden aspects of the psyche and offering a mirror for self-reflection and growth. By tapping into the spiritual significance of tarot, one can access a profound source of wisdom and guidance, ultimately leading to a greater sense of alignment and fulfillment on their life path.
Frequently Asked Questions
How accurate are tarot readings?
Free Tarot readings' and free online tarot readings accuracy varies as they rely on individual interpretation. While some find them insightful, others view them as entertainment. Ultimately, the accuracy depends on the reader's expertise, intuition, and the open-mindedness of the person seeking guidance.
Can anyone learn to read tarot cards?
Yes, anyone can learn to read tarot cards with practice and dedication. It requires studying the meanings of each card, developing intuition, and understanding how to interpret the cards in different spreads.
Are tarot cards only used for predicting the future?
No, tarot cards are not only used for predicting the future. They can also provide guidance, insight, and self-reflection. Tarot readings can help individuals gain a better understanding of their present situation and make informed decisions, on love, career and other hard life decisions.
Can tarot cards reveal information about past lives?
Yes, tarot cards can provide insights into past lives. The symbolism and archetypes depicted in the cards can help uncover patterns, lessons, and unresolved issues from previous lifetimes, offering a deeper understanding of one's current experiences.
Are there specific tarot cards that represent certain people or events in someone's life?
Yes, there are specific tarot cards that can represent certain people or events in someone's life. For example, the Emperor card can symbolize a dominant figure, while the Tower card can represent unexpected change or upheaval.
Conclusion
In conclusion, tarot is a fascinating practice that has a rich history and deep spiritual significance. The tarot deck contains symbolic images that can be used for divination and self-reflection. Whether you believe in its mystical powers or view it as a tool for personal growth, tarot can provide valuable insights and guidance. By exploring the history of tarot and understanding its symbolism, individuals can uncover new perspectives and gain a deeper understanding of themselves and the world around them.