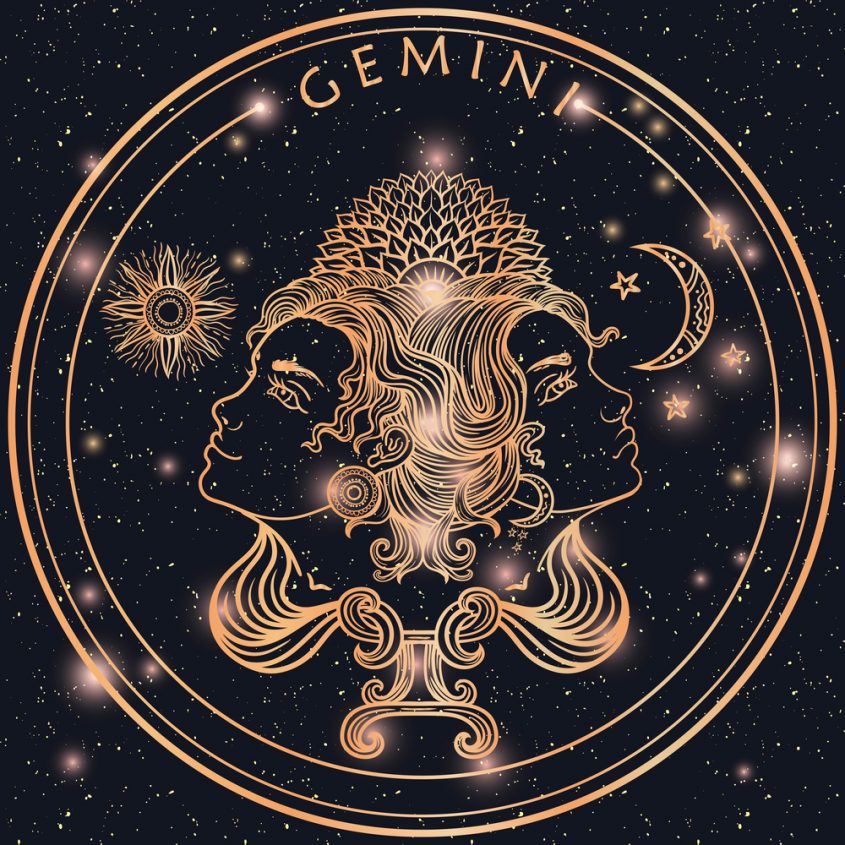 Are you ready to unravel the secrets of the Gemini zodiac sign? Brace yourself, because this captivating astrological journey will take you deep into the dual nature of Geminis. With their dynamic and ever-changing personality, Geminis are a force to be reckoned with. They possess an innate ability to adapt and communicate effectively, making them excellent conversationalists and natural-born leaders. But don't let their charm fool you – Geminis also have their fair share of weaknesses and challenges to overcome. In this article, we will explore the origins and meaning of Gemini in astrology, delve into their unique personality traits, uncover their strengths and talents, as well as shed light on famous Geminis throughout history. So get ready to embrace your own Gemini nature and discover how it can lead you towards personal growth and fulfillment.
The Origins and Meaning of Gemini in Astrology
Gemini, like all zodiac signs, has a fascinating origin story that reveals the deeper meaning behind this celestial symbol. The significance of the Gemini symbol lies in its representation of duality and balance. As an air sign, Gemini is known for their quick wit and intellectual prowess. They are often described as having two sides to their personality, reflecting the duality of the twins in mythology. This symbolizes the constant struggle between their rational mind and emotional heart.
The impact of Gemini's ruling planet, Mercury, cannot be overlooked. Mercury is associated with communication and intellect, which perfectly aligns with Gemini's natural abilities. Geminis are excellent communicators who thrive in social situations and excel at expressing themselves clearly and eloquently.
The origins of Gemini can be traced back to Greek mythology, where it is believed that Castor and Pollux were transformed into stars after death by Zeus himself. These twin brothers were known for their exceptional skills as warriors, but also for their inseparable bond as siblings. Just like Castor and Pollux, Geminis value connections and relationships deeply.
In conclusion, the origins of Gemini reveal a deeper meaning behind this zodiac sign's symbol. The duality represented by the twins speaks to their multifaceted nature while Mercury's influence enhances their communication skills. Understanding these aspects helps shed light on why Geminis possess such unique traits within astrology.
The Dual Nature of Geminis
In this discussion, you will explore the symbolism of the Twins in relation to Geminis. Understanding the dual nature of Geminis is key to understanding their personality and behavior. Additionally, you will delve into the significance of the Air element in shaping the traits and characteristics of Geminis.
Exploring the Twins Symbolism
Embrace the duality of your nature, for the Twins symbolize both your light and shadow selves. Geminis are known for their complex personalities, and they embody the idea of two distinct individuals residing within one person. This exploring duality is what makes Geminis so fascinating. The symbol of the twins has its mythological origins in Greek mythology, with Castor and Pollux being the most well-known pair. They were inseparable brothers who shared a bond even in death. The symbolism behind the twins represents balance and harmony between opposing forces. Just as there are two sides to a coin, Geminis possess contrasting qualities that coexist within them. They have the ability to adapt to different situations effortlessly, shifting from sociable and outgoing to introspective and contemplative in an instant. Embracing this dual nature allows Geminis to tap into their full potential and navigate life with depth and versatility.
Understanding the Air Element
With its light and breezy nature, the Air element symbolizes the intellectual and communicative aspects of Geminis. As a Gemini, you possess a sharp mind and a quick wit, always ready to engage in stimulating conversations. The air element significance for Geminis lies in their ability to adapt easily, just like the wind that changes direction effortlessly. This adaptability allows you to thrive in various social settings and connect with people from all walks of life.
In addition to Geminis, there are two other zodiac signs that share the Air element: Libra and Aquarius. These signs also value intellect, communication, and social interaction. Being an air sign means that you have a natural affinity for ideas, knowledge, and logic. You appreciate intellectual stimulation and often seek out opportunities for learning and growth.
In summary, the Air element plays a significant role in defining the characteristics of Geminis as well as other air signs like Libra and Aquarius. Its influence fosters curiosity, analytical thinking, effective communication skills, adaptability, and a love for intellectual pursuits. Embrace your airy nature as it empowers you to connect with others on a deeper level while fueling your thirst for knowledge.
Gemini Personality Traits
Explore the depths of your Gemini personality and uncover a world of curiosity, adaptability, and quick wit. As a Gemini, you possess a unique set of traits that make you stand out from the crowd. When it comes to relationships, you are known for your charm and ability to connect with others on a deep level. Your communication skills are top-notch, allowing you to express yourself effectively and engage in meaningful conversations.
In relationships, Geminis thrive on intellectual stimulation and constant excitement. You crave mental compatibility and seek partners who can keep up with your ever-changing interests and ideas. Your natural curiosity makes you open-minded and willing to explore new horizons with your loved ones.
Communication is key for Geminis, as it allows them to express their thoughts and feelings effortlessly. You have a way with words that captivates those around you, making even the most mundane topics fascinating. People are drawn to your witty banter and ability to see both sides of an argument.
However, being ruled by Mercury means that sometimes your emotions may fluctuate like the wind. It's important for Geminis to find balance between their rationality and sensitivity in order to maintain healthy relationships.
Overall, as a Gemini, you bring vitality and versatility into any relationship or social setting through your incredible personality traits such as adaptability, curiosity, charm, and exceptional communication skills.
Gemini Strengths and Talents
Gemini, you possess a set of strengths and talents that make you stand out from the crowd. Your effective communication skills allow you to express yourself clearly and connect with others effortlessly. Additionally, your versatility and quick thinking enable you to adapt to any situation with ease. Lastly, your natural curiosity and learning abilities drive you to constantly seek knowledge and expand your horizons. Embrace these qualities, Gemini, as they are the key to your success in various aspects of life.
Effective Communication Skills
Improve your communication skills as a Gemini by actively listening and expressing yourself confidently. As a master of flirting techniques, you already have an innate ability to engage with others. However, honing your effective listening skills can take your communication to the next level. Show genuine interest in what others are saying and maintain eye contact to demonstrate your attentiveness. Avoid interrupting or finishing other people's sentences; instead, let them express their thoughts fully before responding. Additionally, practice active reflection by paraphrasing what you heard to ensure understanding. When expressing yourself, speak clearly and assertively while also being mindful of the tone and body language you convey. With these enhanced communication skills, you'll effortlessly captivate those around you and build stronger connections in both personal and professional relationships.
Versatility and Quick Thinking
Now that you've learned about effective communication skills, let's dive into another aspect of the Gemini zodiac sign: versatility and quick thinking. As a Gemini, you possess the incredible ability to adapt to any situation and think on your feet. This makes you highly versatile in relationships, as you can easily adjust your approach to connect with different personalities. Whether it's with friends, family, or romantic partners, your versatility shines through in your ability to understand and meet their needs. Additionally, this trait also benefits you in the workplace. Your quick thinking and problem-solving skills allow you to tackle challenges head-on and come up with innovative solutions. Employers value these qualities greatly, making you an asset in any work environment. So embrace your versatile nature and let it guide you towards success both personally and professionally.
| Versatility in Relationships | Problem Solving Skills in the Workplace |
| --- | --- |
| Adaptability | Quick thinking |
| Understanding others | Innovation |
| Meeting diverse needs | Tackling challenges |
| Connecting with personalities | Effective problem-solving |
Natural Curiosity and Learning Abilities
Get ready to explore the fascinating world of your natural curiosity and your exceptional ability to absorb knowledge. As a Gemini, you possess an insatiable thirst for learning that fuels your constant quest for new experiences and information.
Here are three ways in which your natural curiosity and learning abilities make you stand out:
Endless Wonder: Your mind is like a sponge, always eager to soak up new ideas and concepts. This boundless curiosity allows you to approach every situation with an open mind, embracing new perspectives and expanding your horizons.
Intellectual Flexibility: Your quick thinking and adaptability enable you to effortlessly switch between different topics or tasks. Whether it's mastering a new skill or diving deep into a complex subject, your agile mind thrives on challenges that stimulate your intellectual growth.
Unquenchable Thirst: Learning is not just a hobby for you; it's a lifelong passion. Your thirst for knowledge is unquenchable, driving you to constantly seek out opportunities for personal development and self-improvement.
Embrace your natural curiosity and use it as fuel to embark on exciting journeys of discovery. The world is yours to explore!
Gemini Weaknesses and Challenges
Although you may be adaptable and quick-witted as a Gemini, it can be challenging for you to stay focused for long periods of time. Your natural curiosity and love for learning can sometimes lead to indecisiveness and difficulty making choices. You often find yourself torn between multiple options, constantly weighing the pros and cons in your mind. This indecisiveness can be frustrating not only for you but also for those around you who are waiting for a decision.
Another weakness you may face as a Gemini is communication problems. While you have a gift for words and can easily engage in conversation, there are times when your thoughts race ahead of your words or vice versa. This can result in misunderstandings or confusion when trying to express yourself effectively. It's important for you to take the time to organize your thoughts before speaking, allowing others to fully understand what you're trying to convey.
To overcome these challenges, it's helpful for you as a Gemini to develop strategies that aid in improving focus and decision-making skills. Setting clear goals, creating routines, and breaking tasks into smaller manageable chunks can help keep distractions at bay and increase productivity. Additionally, practicing active listening and taking pauses during conversations will allow you to better articulate your thoughts and avoid miscommunication.
Remember that every zodiac sign has its strengths and weaknesses, and understanding them can assist in personal growth. Embrace your adaptability while working on staying focused when needed, and use your exceptional communication skills by being mindful of clarity in expressing yourself effectively.
Gemini Compatibility with Other Zodiac Signs
When it comes to compatibility, Gemini has some great matches. You are most compatible with fellow air signs like Libra and Aquarius, as you share similar interests and communication styles. However, you may face challenges in relationships with signs like Pisces or Virgo, as they have different approaches to life and may struggle to keep up with your energetic nature.
Best Matches for Gemini
Discover the ideal matches for you, Gemini, and see who can keep up with your quick-witted charm and love for intellectual conversations. As a Gemini, your best matches are Libra and Aquarius. These air signs share your love for communication and will appreciate your ability to engage in stimulating discussions. They also value independence, which gives you the freedom you need to explore new ideas and experiences. Both Libra and Aquarius are known for their social skills, making them great companions for your outgoing nature. Additionally, they are adaptable and open-minded, traits that complement your ever-changing interests and adventurous spirit. With Libra or Aquarius by your side, you'll enjoy a harmonious relationship filled with intriguing conversations and exciting adventures.
| Gemini Traits | Compatibility Guide |
| --- | --- |
| Quick-witted charm | Libra |
| Love for intellectual conversations | Aquarius |
Challenges in Relationships with Different Signs
Relationships with different signs can present unique hurdles and require extra effort, but they also offer valuable opportunities for growth and understanding. When it comes to Gemini, balancing independence and commitment is crucial in maintaining a healthy relationship. Geminis are known for their independent nature, but they also crave emotional connection and commitment. Finding the right balance between having personal freedom and being present in the relationship can be a challenge.
Another challenge that may arise when dating someone with an incompatible sign is overcoming communication barriers. Geminis are excellent communicators, but certain signs may have different communication styles or struggle to express their emotions effectively. It's important to be patient and understanding, while also finding ways to bridge the gap in communication.
In summary, navigating relationships with different signs requires effort and understanding. Balancing independence and commitment is essential for a successful partnership with a Gemini, while overcoming communication barriers can help strengthen the bond between incompatible signs.
Gemini in Love and Relationships
When it comes to love and relationships, Gemini individuals are known for their flirting and playfulness. They thrive on the excitement of new connections and enjoy keeping things light-hearted. However, they also have a strong need for mental stimulation and intellectual conversations in their relationships. It can be a challenge for them to maintain long-term relationships, but with some tips like open communication and finding common interests, they can build a lasting connection with their partner.
Flirting and Playfulness
Imagine yourself at a lively party, where your Gemini charm and playful nature effortlessly draw others in, making you the center of attention. When it comes to flirting, you have an arsenal of techniques that never fail to captivate those around you. Here are four ways you can use your natural playfulness to leave a lasting impression:
Playful banter: Engage in witty and lighthearted conversations that keep the energy high and create a sense of connection.
Teasing humor: Light teasing adds an element of fun and creates intrigue, making others want to discover more about you.
Body language: Use subtle touches, smiles, and eye contact to show interest while keeping the atmosphere light-hearted.
Intellectual stimulation: Showcase your intelligence by engaging in thought-provoking discussions that tap into your partner's curiosity.
With these techniques at your disposal, it's no wonder people are drawn to your magnetic personality whenever you enter a room. So go ahead and embrace your flirty side – make every interaction sparkle with your Gemini charm!
Need for Mental Stimulation
At a lively party, your witty banter and playfulness effortlessly captivate others, leaving them longing for intellectually stimulating conversations. As a Gemini, your need for mental stimulation in relationships is vital. You thrive on engaging discussions and intellectual pursuits that challenge your mind. For you, it's not just about superficial small talk; you crave depth and substance in your interactions. You are drawn to partners who can keep up with your quick thinking and who can engage you in thought-provoking conversations. Mental stimulation fuels your curiosity and keeps the spark alive in your relationships. Whether it's discussing current events, debating philosophical concepts, or exploring new ideas together, these intellectual exchanges nourish your mind and create a strong bond between you and your partner.
Challenges and Tips for Maintaining Long-Term Relationships
So, you've learned about the Gemini zodiac sign and their need for mental stimulation. Now, let's dive into another aspect of their personality: challenges and tips for maintaining long-term relationships. When it comes to Geminis, trust plays a crucial role in keeping the relationship strong. As someone involved with a Gemini, it's essential to understand that building and maintaining trust is key. Geminis value honesty and transparency, so make sure to communicate openly with them. Conflict management is another vital aspect of a long-lasting relationship with a Gemini. They appreciate partners who can handle conflicts calmly and rationally without letting emotions overpower the conversation. So, remember to approach disagreements with patience and understanding. By maintaining trust and effectively managing conflicts, you'll create a solid foundation for your relationship with a Gemini.
Gemini Career and Success
If you're a Gemini, your versatile and adaptable work style will be one of your greatest assets. You thrive in environments that offer variety and change, allowing you to use your quick thinking and multi-tasking abilities. Careers that suit Gemini traits include roles in communication, sales, marketing, journalism, or any field that requires flexibility and social interaction. However, it's important for you to be aware of the challenges you may face in maintaining focus and staying committed to long-term goals. To ensure professional growth, try setting specific objectives, seeking out new learning opportunities, and finding ways to channel your restless energy into productive projects.
Versatile and Adaptable Work Style
Embrace your versatility and adaptability, effortlessly transitioning between different work styles like a chameleon blending into its surroundings. As a Gemini zodiac sign, you possess a unique ability to thrive in various work environments. Your versatile work style allows you to excel in any role or industry, making you an asset to any team.
Here are three ways your adaptable nature benefits your work:
Multitasking: You have the uncanny ability to juggle multiple tasks simultaneously, efficiently managing your time and resources.
Problem-solving: Your flexible mindset enables you to think outside the box and come up with creative solutions to challenges that arise.
Collaboration: You effortlessly collaborate with diverse personalities, adapting your communication style to effectively connect with others.
Your versatility is not only impressive but also highly valued in today's rapidly changing world of work. Embrace it fully and watch as opportunities unfold before you.
Careers that Suit Gemini Traits
Tap into your adaptable nature and explore careers that align with your Gemini traits. As a Gemini, you possess a unique set of skills and preferences that make you well-suited for certain professions. One career option that suits your versatile personality is marketing or public relations. Your excellent communication skills and ability to adapt quickly to changing trends make you an asset in this field. Another suitable career for a Gemini is journalism or writing. Your natural curiosity and love for storytelling allow you to excel in these roles. Additionally, a career in sales or customer service may be a good fit for you as well. Your charm and ability to connect with others make you an effective communicator in these roles. Consider these gemini career options when exploring your work preferences!
Challenges and Tips for Professional Growth
Overcome challenges and foster professional growth by seeking out new opportunities for development. As a Gemini, you may face challenges in networking due to your tendency to be easily distracted or spread your attention too thin. To overcome this, focus on building deep connections with a select few individuals who share your interests and can help advance your career. Additionally, utilize social media platforms like LinkedIn to expand your professional network and stay updated on industry trends. Developing strong communication skills is also crucial for professional growth as a Gemini. Practice active listening and effective verbal and written communication to ensure that your ideas are clearly understood. Finally, don't be afraid to take risks and try new things in your career path as it will provide valuable learning experiences and contribute to personal development.
Famous Geminis in History and Pop Culture
Renowned for their charm, adaptability, and intellectual prowess, Geminis have left an indelible mark on history and pop culture. Here are three famous Geminis who have made significant contributions:
John F. Kennedy – Born on May 29th, JFK was the 35th President of the United States and is known for his charismatic leadership and ability to inspire others with his speeches.
Marilyn Monroe – This iconic Hollywood actress, born on June 1st, captivated audiences with her beauty and talent. Monroe's mysterious persona continues to intrigue fans worldwide.
Angelina Jolie – Born on June 4th, this versatile actress has not only graced the silver screen but also dedicated herself to humanitarian work as a UN Goodwill Ambassador.
These individuals exemplify the Gemini traits of versatility and charm. Their impact on history and pop culture is undeniable, showcasing the diverse talents that Geminis possess. From political leaders to influential actors, Geminis have used their intelligence and adaptability to make a lasting impression in various fields throughout history.
Gemini Health and Well-being
When it comes to your health and well-being, Geminis need to pay special attention to their nervous system and stress management. It's important for you to find healthy ways to cope with stress, such as practicing relaxation techniques or engaging in regular exercise. Maintaining balance and emotional stability is also crucial for Geminis, as you tend to have a dual nature that can sometimes lead to inner conflicts. Lastly, be aware of common health issues that Geminis may face, such as anxiety disorders, respiratory problems, and digestive issues. Taking proactive steps towards managing these concerns will help ensure your overall well-being.
Nervous System and Stress Management
Find ways to manage stress and take care of your nervous system because, as the saying goes, "A calm mind is a fortress." Stress management techniques are essential for maintaining a healthy nervous system. Chronic stress can have a detrimental impact on your nervous system, leading to various physical and mental health issues. It's crucial to prioritize self-care activities that promote relaxation and reduce stress levels. Engaging in regular exercise, practicing mindfulness or meditation, and getting enough sleep are effective ways to manage stress and support your nervous system's well-being. Additionally, incorporating stress-reducing activities like deep breathing exercises or spending time in nature can further alleviate tension and improve overall mental resilience.
| Stress Management Techniques | Impact of Stress on the Nervous System |
| --- | --- |
| Regular exercise | Increased risk of anxiety disorders |
| Mindfulness or meditation | Impaired cognitive function |
| Sufficient sleep | Weakened immune system |
| Deep breathing exercises | Elevated blood pressure |
| Spending time in nature | Digestive problems |
Maintaining Balance and Emotional Stability
Maintaining balance and emotional stability is crucial for your overall well-being. In order to achieve this, there are various self-care practices that you can incorporate into your daily routine. Here are 3 key strategies to help you maintain balance and emotional stability:
Prioritize work-life balance: It's important to set boundaries between your personal and professional life. Make sure to allocate time for relaxation, hobbies, and spending quality time with loved ones.
Coping with anxiety: Practice stress management techniques such as deep breathing exercises, meditation, or engaging in activities that bring you joy and peace of mind. These techniques can help reduce anxiety levels and promote emotional stability.
Managing stress: Identify the sources of stress in your life and find healthy ways to manage them. This can include regular exercise, getting enough sleep, seeking support from friends or a therapist, and practicing mindfulness.
By incorporating these practices into your daily routine, you can maintain a healthy work-life balance and effectively cope with anxiety and stress for improved emotional stability.
Common Health Issues for Geminis
Geminis, notorious for their indecisiveness, often face a multitude of health issues due to their constant wavering between two options. When it comes to exercise routines, Geminis tend to struggle with consistency. They may start a new workout regimen with enthusiasm but quickly lose interest and move on to the next trendy fitness fad. This lack of commitment can lead to physical ailments such as muscle imbalances and joint problems. Additionally, Geminis are known for their love of socializing, which can result in poor dietary choices. They may indulge in unhealthy foods during social gatherings or opt for convenience meals instead of preparing nutritious meals at home. To maintain good health, it is important for Geminis to find exercise activities that they truly enjoy and stick with them consistently. They should also focus on incorporating a well-balanced diet into their lifestyle to support their overall well-being.
Gemini and Personal Growth
Experiencing personal growth is an essential journey for Gemini. As a Gemini, you thrive on exploring personal development and embracing change and growth. Your zodiac sign is known for its curiosity and adaptability, making it natural for you to seek out new experiences and challenges that will help you evolve as an individual.
One way that Gemini can foster personal growth is by constantly seeking knowledge and expanding your horizons. Your curious nature drives you to learn about various subjects, engage in intellectual discussions, and explore different perspectives. This constant pursuit of knowledge allows you to broaden your understanding of the world and enables personal growth through the acquisition of new skills and insights.
Embracing change is another key aspect of personal growth for Gemini. Being open to change allows you to step out of your comfort zone, try new things, and evolve as a person. Whether it's taking on a new hobby, starting a different career path, or even just trying out a new style, embracing change helps you discover hidden talents and strengths within yourself.
Lastly, Gemini's ability to adapt makes personal growth inevitable. You have the unique talent of being able to adjust quickly to any situation or environment. This flexibility enables you to handle life's curveballs with ease and grace while continually evolving into a better version of yourself.
In summary, exploring personal development, embracing change, and utilizing your adaptability are essential components of fostering personal growth as a Gemini. By embarking on this journey towards self-improvement, you can unlock your full potential while maintaining the vibrant spirit that defines your zodiac sign.
Embracing Your Gemini Nature
Embracing your Gemini nature can lead to exciting opportunities for growth and exploration, as studies show that Geminis are more likely to seek out new experiences compared to other astrological signs. So, why not fully embrace your social nature and adaptability? Here's how you can make the most of being a Gemini:
Explore Gemini's social nature: As a Gemini, you thrive in social settings. Take advantage of this by actively seeking out new friendships and connections. Join clubs, attend events, or engage in group activities where you can meet like-minded individuals who share your interests. Embrace your natural charm and communication skills to build meaningful connections.
Embrace Gemini's adaptability: Geminis are known for their ability to adapt quickly to different situations and environments. Use this skill to your advantage by embracing change and trying new things. Be open-minded and willing to step outside of your comfort zone. Whether it's trying a new hobby or taking on a challenging project at work, embracing change will broaden your horizons and help you grow.
Seek intellectual stimulation: Geminis have an innate curiosity about the world around them. Feed this curiosity by constantly seeking intellectual stimulation. Engage in debates, read books on diverse topics, or take up a course that piques your interest. By continuously expanding your knowledge, you'll satisfy your thirst for information while nurturing personal growth.
Remember, being a Gemini means having an inherent desire for exploration and growth; don't shy away from embracing these qualities! Embrace your social nature, adaptability, and thirst for knowledge to unlock exciting opportunities for personal development along the way!
Frequently Asked Questions
Can Geminis be easily influenced by others?
Yes, Geminis can be easily influenced by others. Their decision-making process is often impacted by external factors and they are more susceptible to peer pressure compared to other zodiac signs.
How do Geminis handle conflicts in their relationships?
In Gemini relationships, effective communication strategies are key for resolving conflicts. Compromise and flexibility play a vital role in finding common ground. By openly discussing concerns and actively listening to each other, conflicts can be successfully addressed and resolved.
Are Geminis known to be successful in their careers?
Geminis have the potential to excel in both entrepreneurship and employment due to their adaptable nature. Their strong communication skills contribute to their career success, as they can effectively convey ideas and build relationships.
What are some famous Gemini celebrities?
Get ready to be starstruck by some incredible famous Gemini celebrities! These talented individuals, known for their quick wit and adaptability, include Angelina Jolie, Johnny Depp, Kanye West, and Chris Pratt.
Do Geminis have any specific health concerns?
Gemini zodiac sign may experience specific health concerns such as anxiety and stress-related issues. However, their adaptable nature allows them to find effective conflict resolution in relationships. Geminis often excel in their careers, just like famous Gemini celebrities.