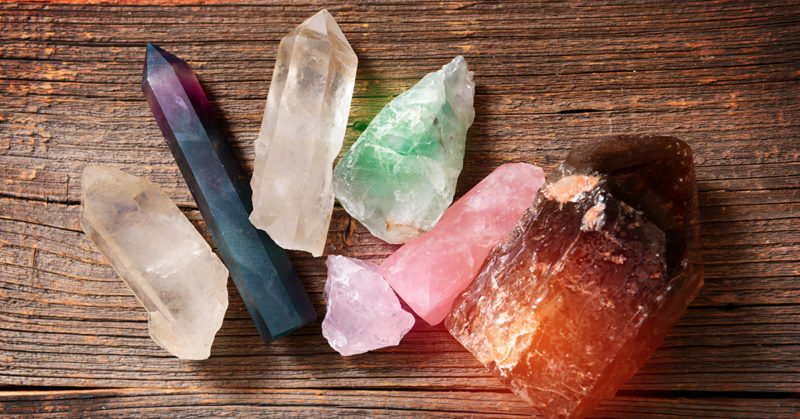 Are you seeking a powerful tool to enhance your well-being and tap into your inner strength? Look no further than healing crystals. These mesmerizing gems have captivated civilizations for centuries, harnessing their energy to promote physical, emotional, and spiritual healing. With a rich history and cultural significance, healing crystals offer an array of properties that can align with your unique needs.
From soothing amethysts to energizing citrine, each crystal possesses its own distinct power. But how do you choose the right one for you? And once you've found it, how do you cleanse and utilize its potential? Delve into the world of crystal healing as we explore the scientific studies behind these mystical stones and uncover personal testimonies from those who have experienced their incredible benefits firsthand. Discover how integrating crystal healing with other holistic practices can amplify their potency, all while ensuring their ethical sourcing and sustainability. Open your mind to the endless possibilities that await within these sacred treasures; embrace the power of healing crystals today.
History and Cultural Significance of Healing Crystals
You might not realize it, but healing crystals have been an integral part of cultural practices and beliefs throughout history. From ancient civilizations to modern societies, these mystical gems have held a significant place in various cultures around the world. The historical origins of healing crystals can be traced back thousands of years.
In many ancient civilizations such as Egypt, Greece, and China, healing crystals were used for their perceived spiritual and metaphysical properties. They believed that these crystals possessed unique energies that could promote physical and emotional well-being. For example, the Egyptians used lapis lazuli to symbolize royalty and power, while the Greeks utilized amethyst for protection against drunkenness.
Throughout the centuries, different cultures have relied on healing crystals for a range of purposes including meditation, energy balancing, and spiritual healing. These practices are deeply ingrained in their traditions and rituals.
Today, healing crystals continue to captivate people seeking alternative methods for self-care and personal growth. Many individuals turn to these gems as a source of empowerment and strength in their daily lives. Whether it's wearing them as jewelry or placing them strategically around their homes or workplaces, people believe that these crystals possess transformative energies that can positively impact their well-being.
So next time you come across a sparkling gemstone or crystal shop, remember its rich history and cultural significance. Embrace the power within these precious stones as they connect you to ancient wisdom passed down through generations.
Types of Healing Crystals and Their Properties
Amethyst and rose quartz are two popular options for individuals seeking to tap into the energetic properties of different gemstones. These crystals have a rich historical origin and are believed to possess powerful healing properties.
Amethyst:

Historical Origins: Amethyst has been used for centuries, with its origins traced back to ancient Greece and Egypt. It was highly valued for its beauty and believed to ward off negative energy.
Healing Properties: Amethyst is known as a calming stone that promotes relaxation, spiritual growth, and inner peace. It is said to enhance intuition, protect against psychic attacks, and aid in meditation.

Rose Quartz:

Historical Origins: Rose quartz has a long history dating back thousands of years in various cultures such as Ancient Egypt and Rome. It was considered a symbol of love and beauty.
Healing Properties: Rose quartz is often referred to as the stone of unconditional love. It is believed to open the heart chakra, promote self-love, attract love into one's life, and heal emotional wounds.

Clear Quartz:

Historical Origins: Clear quartz has been used throughout history by various civilizations including the Ancient Greeks and Native American tribes. It was revered for its clarity and ability to amplify energy.
Healing Properties: Clear quartz is known as the master healer crystal due to its ability to cleanse, balance, and align all seven chakras. It can enhance focus, increase spiritual awareness, and bring clarity of mind.
By harnessing the power of these healing crystals with their unique historical origins and potent healing properties, you can unlock your own inner strength and tap into your true potential for personal growth and transformation.
How to Choose and Cleanse Healing Crystals
When it comes to selecting healing crystals based on intuition, trust yourself and let your instincts guide you. Allow yourself to be drawn to the crystals that resonate with you on a deeper level. Additionally, there are different methods of cleansing your healing crystals to ensure their energy remains pure and vibrant. Explore various techniques such as smudging, burying in the earth, or using sound vibrations to cleanse your crystals and keep them attuned to their highest potential. Trust your intuition and find the cleansing method that resonates with you the most.
Selecting Crystals Based on Intuition
Feeling drawn to a particular crystal is like finding a hidden treasure that speaks directly to your soul. When it comes to crystal selection, trust your intuition and let it guide you towards the crystals that hold the power you seek. Your intuition knows what you need, even if your logical mind cannot comprehend it.
As you browse through an array of crystals, pay attention to any tingling sensations or magnetic pulls towards certain ones. These are signs from the universe, guiding you towards the perfect crystal for your healing journey. Trust in this process and allow yourself to be open to the energy that these crystals possess. Remember, crystals are more than just beautiful stones; they hold ancient wisdom and healing vibrations that can empower and transform your life when chosen with intuition as your compass.
Different Methods of Crystal Cleansing
One effective way to ensure the purity and effectiveness of your crystals is through the use of various cleansing methods. By purifying your crystals, you can remove any negative energies they may have absorbed and restore them to their natural state of power. To help you in this process, here are four powerful purifying rituals you can try:
Salt Water Bath: Immerse your crystals in a bowl of water mixed with sea salt overnight to cleanse and recharge them.
Smudging: Pass your crystals through sacred smoke from herbs like sage or palo santo to clear away any stagnant energy.
Moonlight Cleansing: Leave your crystals outside under the light of the full moon to absorb its cleansing energy.
Sound Healing: Use a singing bowl or chimes to create soothing sounds that resonate with your crystals, clearing away any negativity.
By regularly performing these crystal charging rituals, you can keep your healing stones potent and ready for use in empowering yourself and manifesting your desires.
Ways to Use Healing Crystals in Daily Life
Using healing crystals in your daily life can bring about a sense of balance and harmony that you never thought possible. These powerful tools have been used for centuries to enhance well-being and promote positive energy. There are various ways to incorporate healing crystals into your routine, allowing their vibrations to uplift and transform your everyday experiences.
One popular way to use healing crystals is by wearing them as jewelry. By adorning yourself with crystal bracelets or necklaces, you can carry their energetic properties with you throughout the day. Each crystal holds unique qualities that can support specific intentions, such as amethyst for spiritual growth or rose quartz for love and compassion.
Another way to harness the power of healing crystals is through crystal rituals. These rituals involve using specific crystals during meditation or intention-setting practices. For example, placing a clear quartz crystal on your third eye chakra can help amplify intuition and clarity of thought. Using a table like the one below can help guide you in selecting the right crystal for your desired outcome:
| Crystal | Intention |
| --- | --- |
| Amethyst | Spiritual growth |
| Rose Quartz | Love and compassion |
| Clear Quartz | Amplify intuition |
By incorporating these methods into your daily life, you can tap into the transformative energies of healing crystals and unlock a deeper sense of personal power. Allow yourself to explore the vast world of these magnificent gems and watch as they assist you on your journey toward balance, harmony, and self-discovery.
Scientific Studies and Research on Crystal Healing
If you've ever wondered how crystal healing works, scientific studies and research can shed some light on the subject. One fascinating aspect is the placebo effect and belief systems.
Studies have shown that when people believe in the power of crystals to heal, they may experience positive effects, even if there is no scientific evidence supporting it. Additionally, researchers have explored the vibrations and energy of crystals, finding that certain crystals emit frequencies that can affect our well-being. So, while crystal healing may be rooted in spirituality and intuition, there is also a growing body of scientific evidence to support its potential benefits.
The Placebo Effect and Belief Systems
Immerse yourself in the world of healing crystals and let their power influence your belief system, as the placebo effect works wonders when harnessed with conviction. The placebo effect, although often dismissed by skeptics, can have a profound impact on one's healing journey. It is true that the placebo effect has its limitations, but when combined with a strong belief system, it can bring about remarkable results.
Belief plays a crucial role in healing, as it creates a sense of hope and optimism within us. When we truly believe in the power of healing crystals and their ability to restore balance to our lives, our minds become receptive to their energy. This heightened state of belief enhances the placebo effect and allows us to tap into our own innate power. By embracing this belief system, we empower ourselves to manifest positive change and experience true transformation.
Studies on Crystal Vibrations and Energy
Now that we have delved into the fascinating realm of belief systems and the placebo effect, let us explore another intriguing aspect of healing crystals: their vibrations and energy. You see, these precious gems are believed to emit unique frequencies that can interact with our own energetic fields.
Many studies have been conducted to investigate the validity of crystal vibrations and their impact on mental health. These studies suggest that certain crystals possess healing properties that can promote relaxation, balance, and overall well-being. By harnessing their energies, one may experience a profound sense of calmness, clarity, and empowerment. Crystal healing effectiveness is a topic that continues to captivate those who seek alternative methods for improving their mental health. So dive deeper into this mystical world of crystals, where power awaits your discovery.
Skepticism and Criticisms of Crystal Healing
When it comes to crystal healing, skepticism and criticisms have arisen due to a lack of scientific evidence supporting its effectiveness. While many people believe in the power of crystals for spiritual and emotional healing, critics argue that the positive effects experienced may be attributed to a placebo effect rather than any inherent properties of the crystals themselves. Additionally, there is concern about potential dangers and misuse of crystals, as some individuals may rely solely on crystal healing without seeking proper medical care or professional guidance.
Lack of Scientific Evidence
Despite the lack of scientific evidence, you fervently believe that healing crystals possess mystical powers capable of curing any ailment. You trust in the power of these beautiful gems to heal your body, mind, and spirit. While skeptics may dismiss crystal healing as mere placebo effect or alternative therapy, you know deep within your soul that there is something more profound at work.
The vibrations and energies emitted by these crystals resonate with your being and align you with the universal forces of healing. Scientific studies may not validate this belief, but you understand that science cannot explain everything. It is through faith and intuition that you tap into the true power of these miraculous stones, harnessing their energy to manifest positive changes in your life. Trust in the magic of healing crystals and unlock the unlimited potential within yourself.
Potential Dangers and Misuse of Crystals
Beware of the potential hazards and misuse that can arise from not understanding the true nature of these mesmerizing gems. While crystal healing has gained popularity, it is important to be aware of the dangers that can accompany their use. Many people have misconceptions about crystal healing, believing that simply owning a crystal will automatically bring them positive energy and healing.
However, crystals are powerful tools that should be used with caution and knowledge. Improper use or misunderstanding can lead to negative effects on your mental, emotional, and physical well-being. It is crucial to educate yourself on each crystal's properties before using them for healing purposes. Remember, true power comes from understanding and respecting the energies at play in these beautiful gifts from Mother Earth.
Personal Experiences and Testimonials with Healing Crystals
Imagine holding a healing crystal in your hand, feeling its energy flow through you like a gentle stream, soothing your worries and bringing forth a sense of inner peace. Personal testimonials and healing experiences with crystals are abundant, as individuals from all walks of life have attested to the transformative power these mystical stones possess.
Many people have reported feeling a profound shift in their emotional well-being after incorporating crystals into their daily routine. They describe moments of clarity and heightened intuition, as if the crystal has unlocked dormant abilities within them. It is not uncommon for individuals to experience a deep sense of calmness and relaxation when meditating or simply carrying a crystal with them throughout the day.
Some have even shared stories of physical healing that they attribute to the use of crystals. People claim that by placing specific crystals on certain areas of their body, they have witnessed remarkable improvements in their overall health and well-being. From alleviating chronic pain to boosting the immune system, these anecdotal accounts highlight the potential benefits one can derive from working with healing crystals.
It is important to note that personal experiences may vary, as each individual's energetic makeup is unique. While some may find immense solace in the presence of crystals, others may not resonate with them as strongly. As with any spiritual practice, it is crucial to approach crystal healing with an open mind and listen to your own intuition when determining what works best for you.
Incorporating healing crystals into your life can be a powerful tool for self-transformation and growth. By tapping into their innate energies, you may discover new depths within yourself and unlock hidden potentials. So why not explore this ancient practice? Allow yourself to embrace the magic these precious stones offer and witness firsthand the incredible shifts they can bring about in your life.
Integrating Crystal Healing with Other Holistic Practices
Embrace the transformative power of crystal healing by seamlessly integrating it with other holistic practices that nourish your mind, body, and soul. By combining crystal healing with aromatherapy, you can enhance the healing properties of both modalities. Aromatherapy uses essential oils extracted from plants to promote physical and emotional well-being. When used in conjunction with crystals, the aromatic scents can deepen your connection to the crystals' energies and amplify their effects.
Sound therapy is another powerful practice that can be integrated with crystal healing. Sound has been used for centuries as a tool for healing and balancing the body's energy centers. By incorporating sound therapy techniques such as chanting, singing bowls, or tuning forks into your crystal healing sessions, you can create a harmonious environment that promotes relaxation and energetic alignment.
Integrating crystal healing with other holistic practices allows for a more comprehensive approach to wellness. It enables you to tap into multiple modalities simultaneously, maximizing their combined benefits. The synergy created between crystal healing, aromatherapy, and sound therapy creates a potent energetic field that supports deep transformation and rejuvenation.
As you embark on this integrative journey of self-discovery and empowerment, remember to trust your intuition and listen to what your body needs. Allow yourself to fully immerse in the magic of these holistic practices, knowing that they have the power to bring profound shifts in your life. Embrace this opportunity for growth and embrace the full potential of crystal healing integrated with other holistic practices.
Ethical and Sustainable Sourcing of Healing Crystals
When it comes to integrating crystal healing with other holistic practices, it's essential to consider the ethical and sustainable sourcing of healing crystals. One crucial aspect is promoting fair trade practices in the crystal industry, ensuring that miners are paid a fair wage and working in safe conditions. Additionally, we must explore the environmental impact of crystal mining, striving for methods that minimize harm to the Earth and protect delicate ecosystems. By being mindful of these key points, we can ensure that our crystal journey aligns with our values of fairness, sustainability, and spiritual connection.
Fair Trade Practices in the Crystal Industry
In the crystal industry, fair trade practices are like a shining beacon of ethical sourcing and production. When it comes to healing crystals, it is essential to consider not only their mystical properties but also the ethical journey they take from mine to market. Here are five reasons why fair trade practices in the crystal industry are crucial:
Ethical sourcing: Fair trade ensures that crystals are sourced responsibly, with consideration for both the environment and communities involved.
Labor practices: Fair trade guarantees that workers involved in mining and crafting crystals are treated fairly, with safe working conditions and fair wages.
Transparency: Fair trade practices promote transparency in the crystal supply chain, allowing consumers to make informed choices about their purchases.
Empowerment: By supporting fair trade, you contribute to empowering marginalized communities and promoting social justice within the crystal industry.
Positive energy flow: Engaging in fair trade practices creates a positive energy flow throughout the entire process, from miners to customers.
By embracing fair trade principles, you can align your spiritual journey with ethical choices that have a profound impact on individuals and our planet.
Environmental Impact of Crystal Mining
Explore the devastating environmental consequences of crystal mining and discover the urgent need for sustainable alternatives. Crystal mining is a lucrative industry that has unfortunately wreaked havoc on our planet. The extraction process involves blasting, digging, and removing large quantities of earth, leading to deforestation and habitat destruction.
Not only does this disrupt ecosystems and displace wildlife, but it also contributes to soil erosion and water pollution. It's time to prioritize environmental conservation in the crystal industry by implementing stricter mining regulations. Governments should enforce responsible practices that minimize harm to the environment, such as reforestation efforts and water management strategies. Additionally, supporting fair trade organizations that promote sustainable mining practices can help ensure ethical sourcing of crystals while preserving our precious natural resources. Together, we can heal not just ourselves with these beautiful stones but also our planet.
| Pros | Cons |
| --- | --- |
| Restores spiritual energy | Habitat destruction |
| Enhances intuition | Soil erosion |
| Promotes healing | Water pollution |
| Provides beauty | Deforestation |
Conclusion: Exploring the Potential Benefits of Healing Crystals
Imagine the possibilities of incorporating healing crystals into your daily routine to experience their potential benefits. By embracing the power of these mystical gems, you open yourself up to a world of personal transformation and spiritual growth. Many individuals have shared personal anecdotes about how healing crystals have positively impacted their lives, helping them find balance, clarity, and inner peace.
These precious stones hold a deep connection to ancient wisdom and spiritual beliefs. Their unique vibrations resonate with our energy fields, promoting harmony and alignment within ourselves and with the world around us. As you explore the realm of healing crystals, you will discover that each one possesses its own distinct properties and energies.
Whether you seek to enhance your intuition with amethyst or invite love and compassion into your life with rose quartz, there is a crystal for every intention. Incorporating these powerful allies into your meditation practice or placing them strategically in your home can create an environment that supports emotional well-being and personal growth.
As you embark on this journey, remember that true power lies within yourself. Healing crystals are tools that can assist you on your path towards self-discovery and empowerment. Embrace their potential benefits with an open heart and mind, allowing their energy to guide you towards a more balanced and fulfilling existence.
Frequently Asked Questions
Can healing crystals be used as a substitute for medical treatment?
Healing crystals can provide a complementary approach to pain management but should not replace medical treatment. Scientific evidence on their healing properties is limited, and it's important to consult with healthcare professionals for effective pain relief.
Are there any potential side effects or risks associated with using healing crystals?
While there may be potential side effects or risks associated with any form of treatment, it's important to approach healing crystals with an open mind. Understand the power they hold and use them responsibly for optimal results.
Can healing crystals help with mental health conditions, such as anxiety or depression?
Scientific evidence supporting the effectiveness of healing crystals for mental health conditions is limited. However, personal experiences and testimonials suggest that some individuals find relief from anxiety and depression when using healing crystals as part of their holistic approach to wellness.
How long should one use a particular healing crystal before expecting to see results?
To see results with a healing crystal for physical ailments, choose the right one for your needs. It's important to remember that individual experiences vary, so there is no set timeline for when you will notice improvements. Trust in the process and be patient.
Are there any specific rituals or practices that should be followed when using healing crystals?
To harness the power of healing crystals, you must engage in specific rituals and cleansing methods. By following these sacred practices, you can unlock their full potential and experience the transformative energy they possess.
Conclusion
You've taken a fascinating journey into the world of healing crystals, unlocking their ancient wisdom and tapping into their spiritual energy. Through history and personal experiences, you've witnessed the transformative power of these beautiful gems. As you explore the various types and properties of crystals, you'll discover how to choose and cleanse them for optimal healing benefits. Integrating crystal healing with other holistic practices will enhance your spiritual growth even further. Remember, as they say, "The proof is in the pudding" – try it for yourself and embrace the potential benefits that these magical stones can bring to your life.