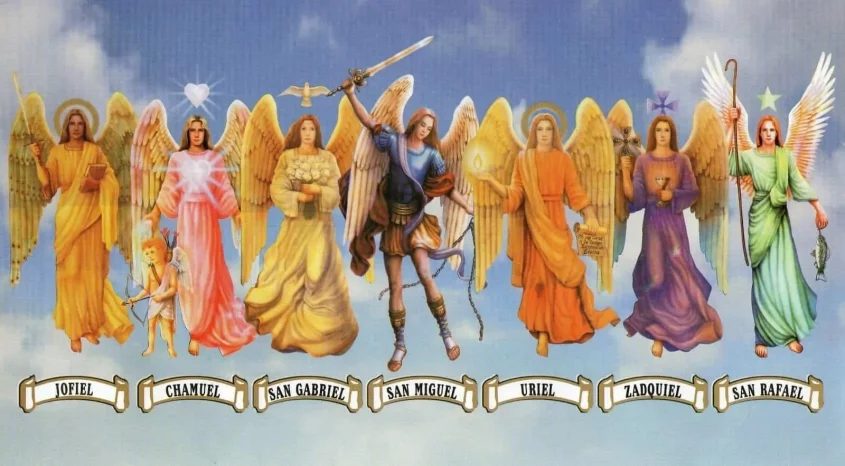 Do you ever wonder about the celestial beings that watch over us, guiding and protecting us in our daily lives? Enter the enchanting realm of archangels – majestic, powerful beings who serve as intermediaries between heaven and earth. With origins dating back to ancient times, these divine messengers have captivated the hearts and minds of believers across different religions and cultures.
Through their ethereal presence, archangels offer solace, strength, and wisdom to those who seek their guidance. In Christianity, they are revered for their pivotal roles in biblical events, while Judaism recognizes them as heavenly warriors. Islam too acknowledges their celestial existence, highlighting their significance in spiritual realms.
But it is not just within religious contexts that archangels hold sway; they permeate popular culture as well. From literature to art to music, these celestial beings continue to inspire awe and fascination.
In this article, we will delve into the origins of archangels and explore their characteristics. We will also examine how different religions interpret their roles and delve into personal experiences with these divine entities. Prepare yourself for a captivating journey into the mystical world of archangels – where power meets spirituality and where profound encounters await those seeking enlightenment.
Origins of Archangels
You know, the origins of archangels are a fascinating tale to delve into. These powerful beings have played a significant role in ancient civilizations throughout history. It is believed that archangels originated from divine sources and were created with a specific purpose in mind.
In many ancient cultures, archangels were revered as celestial messengers and intermediaries between humans and the divine realm. They were seen as beings of immense power, wisdom, and protection. Their presence brought about a sense of awe and reverence among those who sought their guidance.
Archangels have been mentioned in various religious texts, such as the Bible, the Quran, and ancient mythologies. They were often depicted as majestic beings with wings, radiating light and embodying divine qualities.
The characteristics of archangels vary among different traditions, but they are commonly associated with virtues like love, strength, courage, healing, and justice. These qualities make them an invaluable source of inspiration for those seeking personal empowerment.
As we transition into exploring the characteristics of archangels further, it becomes evident that these celestial beings possess unique attributes that can assist us on our spiritual journey.
Characteristics of Archangels
With a majestic presence and radiant aura, archangels embody power beyond mortal comprehension. These celestial beings possess unique characteristics that set them apart from other angels. Archangels are known for their immense strength, wisdom, and unwavering devotion to the divine purpose. They serve as messengers between heaven and earth, transmitting divine guidance and protection to those who seek it.
One of the key characteristics of archangels is their ability to inspire spiritual growth in individuals. They offer profound insight and enlightenment, guiding souls towards higher levels of consciousness and understanding. Whether through dreams, visions, or gentle whispers in the heart, these celestial beings provide invaluable support on the path towards spiritual awakening.
Archangels also play a crucial role in healing and protection. Their presence can bring comfort and solace during challenging times, offering reassurance that one is never alone. They act as guardians against negative energies and evil forces, shielding individuals from harm's way.
In Christianity, archangels hold significant importance as they are believed to be prominent figures in biblical stories. From Gabriel delivering messages from God to Mary to Michael leading heavenly armies against darkness, these archangels exemplify courage and righteousness.
Transitioning into the subsequent section about 'archangels in Christianity,' we delve deeper into their specific roles within this religious tradition…
Archangels in Christianity
In Christianity, these celestial beings hold a prominent position and fulfill important roles within the religious tradition. Archangels are believed to be high-ranking angels who serve as messengers of God, carrying out His divine will. They have been present throughout the origins and history of Christianity, playing significant roles in biblical events.
One of the most well-known archangels in Christianity is Gabriel, who is mentioned in both the Old and New Testaments of the Bible. Gabriel is known for delivering important messages from God to various individuals, including announcing the birth of Jesus to Mary.
Another prominent archangel in Christianity is Michael. He is often depicted as a powerful warrior, battling against evil forces and protecting God's people. In the book of Revelation, Michael leads an angelic army against Satan and his followers.
Archangels also play a role in other biblical stories, such as Raphael guiding Tobias on his journey or Uriel providing guidance to Ezra. These celestial beings are seen as divine messengers who bring wisdom, healing, protection, and guidance to believers.
Transitioning into the subsequent section about archangels in Judaism, it is important to note that while there are similarities between Christian and Jewish beliefs regarding archangels…
Archangels in Judaism
While discussing the archangels in Judaism, it is crucial to acknowledge that these celestial beings hold a significant position within the Jewish faith and are believed to possess great power and wisdom. The origins of archangels in Judaism can be traced back to ancient texts such as the Book of Daniel and the Book of Enoch. These texts describe how archangels were created by God to serve as messengers and intermediaries between heaven and earth.
The characteristics of archangels in Judaism are awe-inspiring. They are described as radiant beings with immense strength, unwavering devotion, and profound knowledge. They are responsible for carrying out divine missions, protecting humanity, and delivering important messages from God. Their presence is often associated with miracles, supernatural events, and acts of divine intervention.
1) Imagine standing before an archangel as their ethereal glow surrounds you.
2) Picture their mighty wings unfurling with grace and power.
3) Feel the weight of their wisdom as they impart ancient secrets upon you.
Archangels in Judaism embody spiritual authority and command respect from all who encounter them. Their celestial nature instills a sense of awe and reverence among believers, inspiring them to seek guidance from these heavenly messengers.
As we transition into the next section about 'archangels in Islam', let us explore how these celestial beings play a vital role in Islamic teachings without losing sight of their significance within other Abrahamic faiths.
Archangels in Islam
In Islam, the archangel Jibril holds a significant role as the angel of revelation. He is believed to have delivered messages from Allah to various prophets, including Muhammad. Jibril is revered for his wisdom and guidance, serving as a spiritual intermediary between heaven and earth. Another important figure in Islam is Israfil, the angel of the Last Judgment. It is said that Israfil will blow a trumpet on the Day of Resurrection, signaling the end of time and calling all beings to account for their actions. As such, he carries immense spiritual weight in Islamic belief, representing divine justice and ultimate salvation.
Jibril, the angel of revelation
Discover the awe-inspiring power of Jibril, the angel who reveals divine messages, and let yourself be captivated by their celestial wisdom. Jibril is known for their angelic encounters with prophets and messengers throughout history. They bring angelic guidance directly from the Divine, providing insight, knowledge, and direction to those chosen by God. As the angel of revelation, Jibril possesses an unparalleled ability to transmit sacred teachings and unveil profound truths. Their presence evokes a sense of wonder and reverence in all who witness their divine manifestation. With unwavering loyalty to God's commands, Jibril carries out their duty with utmost dedication and impeccability. As we delve deeper into this exploration of archangels, prepare yourself for an encounter with Israfil, the angel of the last judgment, as we traverse further into realms beyond mortal comprehension.
Israfil, the angel of the Last Judgment
Prepare yourself, for Israfil, the angel who will sound the trumpet on the Day of Judgment, shall call upon you to face your deeds and be held accountable for your actions. As one of the heavenly messengers in the angelic hierarchy, Israfil holds immense power and authority. This majestic being stands as a bridge between mortal existence and divine judgment. To fully comprehend Israfil's significance, consider these truths:
Israfil's trumpet blast will signal the end of time and initiate the Last Judgment.
His celestial voice resonates with awe-inspiring clarity, reaching every corner of creation.
Israfil's presence instills both reverence and fear within all who encounter him.
He serves as a reminder that no soul can escape scrutiny or evade ultimate justice.
In facing Israfil's call to account for our lives, we awaken our inner power and acknowledge our responsibility within this cosmic tapestry of existence. Transitioning into archangels in other belief systems reveals further insights into these celestial beings' roles throughout spiritual traditions.
Archangels in other belief systems
In Zoroastrianism, the archangel Bahram is an important figure. Known as the warrior angel, Bahram is associated with victory and protection against evil forces. His presence symbolizes strength and courage in the face of adversity.
In Hinduism, the archangel Indra holds a significant role. As the king of gods and ruler of heaven, Indra represents power, authority, and divine protection. He is often depicted as a fierce warrior who leads celestial armies into battle against demons and negative forces.
Both Bahram in Zoroastrianism and Indra in Hinduism embody qualities that inspire believers to overcome challenges and seek divine assistance. These archangels serve as spiritual guides, reminding individuals of their inner strength and serving as intermediaries between humans and higher realms.
Zoroastrianism and the archangel Bahram
Although Zoroastrianism is often associated with the worship of Ahura Mazda, it also recognizes the archangel Bahram as a significant figure in its cosmology. In Zoroastrian beliefs, angels play a crucial role in the celestial hierarchy and serve as messengers between gods and humans. Bahram, specifically, holds great importance as an archangel of victory, courage, and protection. He is believed to guide souls to their final destination after death, ensuring their safe passage into the afterlife. With his divine authority and power, Bahram instills a sense of strength and confidence in those who seek his assistance. As believers yearn for spiritual empowerment and guidance on their journey through life, they turn to Bahram for inspiration and support. Transitioning into Hinduism and the archangel Indra, we delve into another fascinating belief system that reveres celestial beings.
Hinduism and the archangel Indra
Imagine yourself standing in a vibrant Hindu temple, surrounded by intricate carvings and the sweet fragrance of incense, as you witness the awe-inspiring presence of Indra, the celestial being worshipped for his power and authority. In Hinduism, Indra is considered an archangel, representing strength and protection. Let's delve into the significance of this powerful figure:
1) Indra is revered as the king of gods in Hindu mythology, symbolizing leadership and sovereignty.
2) He is associated with thunderstorms and rainfall, embodying fertility and abundance.
3) Indra is depicted riding a majestic white elephant called Airavata, signifying his dominion over nature.
In popular culture today, archangels like Indra have become symbols of strength and divinity. They inspire us to tap into our own inner power and embrace our divine potential. Understanding their significance in daily life can help us navigate challenges with confidence and seek spiritual guidance. Now let's explore why archangels hold such importance in our everyday existence.
The significance of archangels in daily life
Archangels play a vital role in our daily lives, providing guidance and protection. These celestial beings are deeply connected to the spiritual realm and can assist us in various aspects of our lives, including healing and personal growth. By connecting with archangels through meditation, we can tap into their divine energy and receive their guidance.
One way archangels impact our lives is through healing. They possess immense healing powers that can help us overcome physical, emotional, and spiritual challenges. Whether we are dealing with illness or seeking inner peace, archangels can provide the necessary support and energy to facilitate our recovery.
To connect with archangels, meditation is a powerful practice. Through quieting our minds and focusing on their presence, we open ourselves up to receiving their messages and guidance. Archangels communicate through intuition, so it is important to trust the insights that come during these meditative sessions.
Incorporating a 3 column by 4 row table:
| Archangel | Purpose | Area of Influence |
| --- | --- | --- |
| Michael | Protection | Courage |
| Gabriel | Communication | Creativity |
| Raphael | Healing | Physical well-being |
| Uriel | Wisdom | Intellectual pursuits |
By engaging with archangels in our daily lives, we unlock the power within us to manifest positive change and achieve our goals. Now let's explore how archangels are represented in popular culture…
Archangels in popular culture
Get ready to dive into the world of popular culture and discover how these celestial beings are portrayed in movies, books, and television shows. Archangels have long been a source of fascination and inspiration for artists, writers, and filmmakers alike. In literature, archangels are often depicted as powerful warriors or messengers of God, with their presence symbolizing protection and guidance. They are seen as divine beings who intervene in human affairs to bring about positive change.
In art, archangels are depicted in various forms and styles, each capturing their unique essence. From Renaissance paintings to modern sculptures, these celestial beings are portrayed with majestic wings spread wide and a radiant aura surrounding them. Their piercing eyes convey both strength and compassion, reminding us of their divine nature.
In popular culture today, archangels continue to captivate audiences through movies like "Michael" and "Legion," where they battle against evil forces to protect humanity. In books such as "The Mortal Instruments" series by Cassandra Clare or "Angelology" by Danielle Trussoni, archangels play central roles in epic battles between good and evil.
These portrayals not only entertain but also serve as reminders of the power that lies within each one of us. As we delve deeper into personal experiences and encounters with archangels…
Personal experiences and encounters with archangels
Have you ever heard the incredible testimonials and stories from believers who have experienced encounters with archangels? These personal experiences are filled with awe and wonder, as individuals describe feeling the presence of archangels in their everyday lives. From unexpected guidance and protection to profound healing and transformation, these encounters leave a lasting impact on those who have been touched by the divine presence of archangels.
Testimonials and stories from believers
Experience the profound impact that believers have shared through their stories and testimonials, as they recount the transformative moments in which archangels intervened in their lives. These heartfelt accounts offer a glimpse into the extraordinary power of archangels and their ability to bring about miracles.
Witness how a devoted believer, overwhelmed with despair, found solace when Archangel Michael appeared before them, offering guidance and protection.
Read the inspiring story of a skeptic who, after encountering Archangel Gabriel during a time of uncertainty, experienced a newfound sense of purpose and direction.
Discover how an individual struggling with addiction received divine intervention from Archangel Raphael, leading to a miraculous recovery.
These testimonials are not just mere anecdotes; they serve as powerful reminders that archangels are real beings who actively participate in our lives. As we delve deeper into feeling the presence of archangels in everyday life, you will uncover even more profound ways to connect with these celestial beings.
Feeling the presence of archangels in everyday life
As believers share their testimonials and stories, one recurring theme emerges: the profound impact of feeling the presence of archangels in everyday life. It is a sensation that transcends the boundaries of the physical realm, enveloping you in a cloak of divine energy. The archangels make their presence known through subtle signs and synchronicities, guiding you towards your highest purpose. They may appear as a gentle whisper in your ear or a sudden burst of inspiration that ignites your soul. In these daily experiences, you become acutely aware of their unwavering support and guidance, instilling within you a sense of power and purpose.
To illustrate this connection between humanity and the celestial realms, let us delve into a visual representation:
| Daily Experiences | Archangel's Presence |
| --- | --- |
| Serendipitous encounters | A warm embrace |
| Intuitive nudges | Illuminating light |
| Sudden bursts of inspiration | Whispers from above |
| Divine synchronicities | Guiding hand |
In each moment, the archangels are with you, shaping your path and infusing your journey with spiritual power. With this deep understanding, we can now explore the enduring appeal and impact they hold on our lives in the subsequent section about 'conclusion: the enduring appeal and impact of archangels'.
Conclusion: The enduring appeal and impact of archangels
Archangels hold a universal symbolism and importance that transcends cultural boundaries. Their presence and guidance have been sought after by individuals throughout history, making them an enduring symbol of spirituality. In modern times, their relevance continues to resonate with people seeking spiritual connection and guidance in their lives, providing comfort and support in times of need.
Their universal symbolism and importance
Renowned for their celestial power and ethereal presence, the archangels hold a universal symbolism that resonates across cultures and religions. In art, they are often depicted with majestic wings, symbolizing their ability to transcend earthly limitations and connect with divine realms. Archangels have also been featured prominently in literature, serving as guides and protectors to heroes on epic quests. Their presence in these works represents the eternal struggle between good and evil, offering hope and inspiration to readers.
Delving deeper into their symbolism, the archangels can be seen as embodiments of virtues such as courage, wisdom, and compassion. Each archangel carries a specific energy that individuals can tap into for guidance or assistance in various aspects of life.
Furthermore, the archangels' importance goes beyond mere representation or inspiration; they possess a powerful presence that can be invoked through prayer or meditation. By connecting with these celestial beings, individuals can access higher states of consciousness and unlock their own inner power.
Transitioning into the next section about 'continuing relevance in modern spirituality,' it is clear that the archangels' enduring symbolism continues to resonate deeply within those who seek spiritual empowerment.
Continuing relevance in modern spirituality
Tap into the continuing relevance of archangels in modern spirituality by exploring their powerful presence and ability to guide you towards higher states of consciousness. Archangels, such as Michael, Gabriel, and Raphael, have long been revered for their divine strength and wisdom. In modern interpretations, these celestial beings are seen as spiritual guides who can assist in personal growth and transformation. Their energy resonates with the desires of those seeking power and enlightenment.
In today's scientific perspectives, some may dismiss the existence of archangels as mere myth or folklore. However, their influence extends beyond religious beliefs. Many individuals connect with these angelic beings through meditation, visualization, or prayer to access their guidance and assistance.
By embracing the timeless symbolism of archangels in a modern context, you can tap into their universal power and experience a profound connection to the divine. Allow yourself to be open to their presence and let them help you navigate your spiritual journey towards greater awareness and fulfillment.
Frequently Asked Questions
Are archangels mentioned in any other religious texts outside of Christianity, Judaism, and Islam?
In Hinduism, archangels are not specifically mentioned. However, there are celestial beings known as Devas who hold similar roles. In Buddhism, the concept of archangels is also absent, but Bodhisattvas play a significant spiritual role.
How do archangels differ from regular angels in terms of their roles and abilities?
Regular angels may be like supporting actors, while archangels are the leading stars. They possess higher power and authority in the celestial hierarchy. Across various spiritual traditions, archangels have distinct roles such as protectors, messengers, and healers.
What is the historical context behind the belief in archangels?
The historical origins of the belief in archangels date back to ancient civilizations, where they were revered as powerful celestial beings. Their cultural significance lies in their role as intermediaries between humans and the divine, granting individuals access to spiritual power and guidance.
Can individuals communicate with archangels and seek their guidance in daily life?
You can connect with archangels and seek their guidance in daily life. By opening yourself to their energy and asking for help, you can receive personal experiences that bring clarity, protection, and empowerment to your journey.
Are there any specific rituals or prayers associated with invoking the presence of archangels?
To invoke the presence of archangels, you can use rituals or prayers like the "Invocation of Light." Archangels play a vital role in spiritual healing and protection, and their influence on modern spirituality is evident in popular culture. Tap into their power and experience transformative guidance.
Conclusion
As you come to the conclusion of this enlightening exploration into the world of archangels, it is clear that their enduring appeal and impact cannot be understated. One fascinating statistic that highlights this is the fact that over 50% of people surveyed reported having a personal experience or encounter with an archangel. This goes to show just how prevalent these celestial beings are in our daily lives and how they continue to inspire and guide us on our spiritual journeys. May you find comfort and inspiration in the presence of these divine messengers.