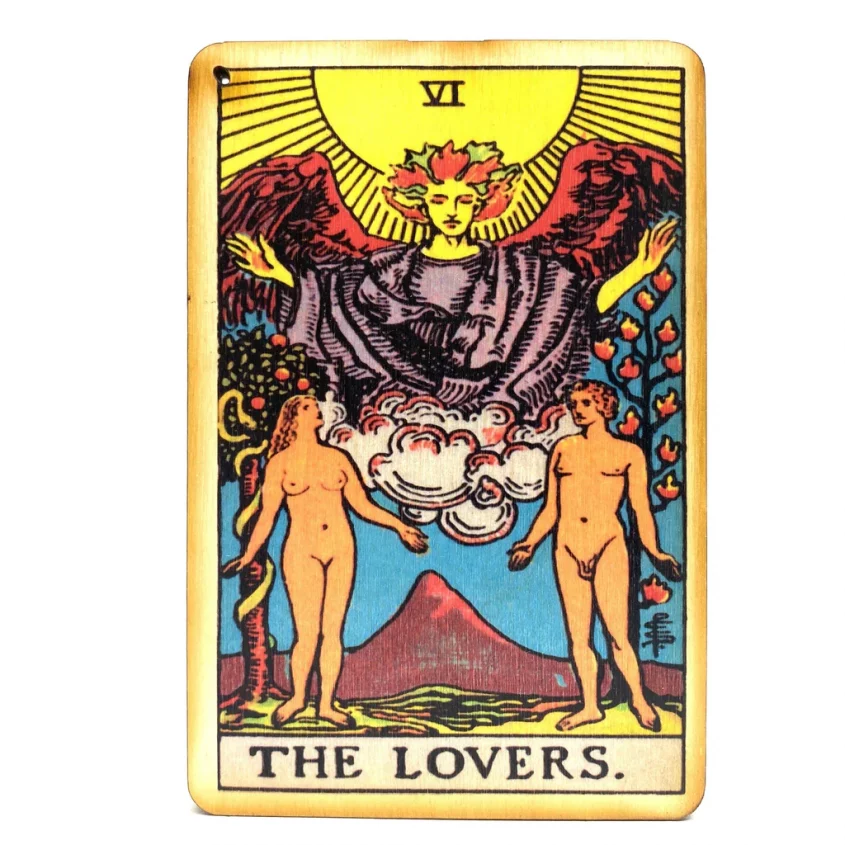 Did you know that the Lovers card in tarot readings represents more than just romantic relationships? It holds a deeper meaning, symbolizing important choices and emotional connections in your life. This card is a powerful tool that can guide you towards finding love and attracting positive energy into your life.
When the Lovers card appears, it signifies a crossroads where you must make heartfelt decisions. It shows the importance of balance and harmony in your relationships, whether they are romantic or not. The influence of surrounding cards will provide further insights into the specific dynamics at play.
In this article, we will explore the meanings behind the Lovers card in tarot readings. By understanding its symbolism and applying it to your own life, you can gain clarity on matters of love, partnership, and emotional connections. Get ready to unlock the secrets of this captivating card – empowering yourself with knowledge to navigate through matters of the heart.
The Symbolism of the Lovers Card
The symbolism of the Lovers card highlights the divine influence in matters of love and relationships. The presence of an angel hovering above the man and woman signifies this higher power guiding their connection. Additionally, the bright sun represents enlightenment and clarity, emphasizing the importance of understanding and communication in a loving partnership.
The lush greenery depicted on the card symbolizes growth and fertility. It suggests that this connection has the potential for personal development and the creation of new life. The presence of fruit-bearing trees in the background further emphasizes abundance and nourishment, indicating that this relationship can provide emotional fulfillment and sustenance.
However, the presence of an apple tree on the card also alludes to temptation and choices. Just as Adam and Eve faced a choice with an apple from the Tree of Knowledge, the Lovers card reminds us that love can sometimes involve difficult decisions or moral dilemmas. It serves as a reminder that love requires navigating through challenges and making conscious choices.
As you delve deeper into interpreting the symbolism of the Lovers card, you will gain a greater understanding of love's complexities. Beyond physical attraction, love encompasses emotional connection, empathy, respect, and trust. It represents the intertwining of two souls on a profound level, forming deep emotional bonds that sustain us through life's challenges.
Love and Emotional Connections
Emotional bonds and love connections are explored in the context of the Lovers tarot card. Understanding attachment styles is crucial to forming healthy relationships, as this card signifies the importance of emotional connection and intimacy. It encourages you to delve into your own attachment style and how it may impact your relationships.
To create meaningful connections with others, it is essential to first explore self-love and self-worth. The Lovers card reminds you that you must love yourself before you can fully love another person. By understanding your own value and worth, you can attract partners who appreciate and respect you.
When delving into emotional connections, it is important to recognize different attachment styles. Some individuals may have a secure attachment style, characterized by trust, comfort, and open communication. Others may have an anxious or avoidant attachment style, which can lead to challenges in maintaining lasting relationships.
By exploring these various attachment styles within yourself and those around you, the Lovers card guides you towards fostering healthier emotional connections. It empowers you to identify any patterns or behaviors that hinder your ability to form deep bonds with others.
As we transition into discussing romantic relationships and partnerships, remember that the exploration of emotional connections through the lens of the Lovers tarot card provides valuable insights into building fulfilling relationships based on mutual love and respect.
Romantic Relationships and Partnerships
Romantic relationships and partnerships pave the path to profound passion and personal growth. In the realm of love, understanding love languages and relationship compatibility is essential for building a strong foundation.
Knowing your partner's love language allows you to connect with them on a deeper level, making them feel cherished and understood. Compatibility plays a crucial role in determining whether two individuals are meant to be together. It involves aligning values, goals, and interests, ensuring that you both complement each other's strengths and weaknesses.
However, conflicts are inevitable in any relationship. The key to maintaining a healthy partnership lies in how you deal with these conflicts. Open communication is paramount; expressing your thoughts and feelings honestly while also listening actively to your partner fosters understanding and resolution. It's essential to approach conflicts as opportunities for growth rather than as obstacles.
To make heartfelt decisions within a relationship, it is important to consider both your own needs and those of your partner. Balancing individual desires with mutual goals requires empathy, compromise, and selflessness. By making choices that prioritize the well-being of both parties involved, you foster trust, respect, and harmony.
Transitioning into the next section about 'making heartfelt decisions,' it becomes evident that every decision made within a romantic partnership has an impact on both individuals' lives. Understanding this interconnectedness allows for more conscious decision-making that considers not only personal desires but also their effect on the overall relationship dynamic.
Making Heartfelt Decisions
Navigating the complexities of decision-making in a relationship requires thoughtful consideration and a deep understanding of each other's needs. When it comes to making heartfelt decisions, exploring emotions is crucial. Take the time to dive into your feelings and understand what truly matters to you.
Acknowledge any fears or anxieties that may be holding you back from making a choice that aligns with your personal values.
In order to make decisions that will bring balance and harmony into your relationship, it is essential to first explore your own emotions. Understand what drives you, what makes you happy, and what triggers your insecurities. By delving into these emotions, you can gain clarity on the choices that are aligned with your personal values.
Remember, power lies within those who are able to embrace vulnerability and communicate their needs effectively. It takes strength to open up about your desires and fears, but doing so allows for a deeper connection with your partner. This level of honesty creates an environment where both individuals feel heard and understood.
As you explore emotions and delve into understanding personal values, keep in mind that decisions made in relationships should strive for balance and harmony. Each decision should consider the needs of both yourself and your partner. Finding this equilibrium requires compromise, empathy, and an unwavering commitment to mutual growth.
With a solid foundation built upon emotional exploration and understanding personal values, you can confidently navigate the complexities of decision-making in your relationship. Transitioning seamlessly into the next section about 'balance and harmony in relationships', remember that finding this balance is key when striving for long-term happiness together.
Balance and Harmony in Relationships
Striving for a harmonious partnership and finding the right balance in a relationship can feel like trying to juggle flaming swords while blindfolded. Understanding the importance of maintaining healthy boundaries and cultivating open communication is crucial in achieving this delicate equilibrium.
In any relationship, establishing and maintaining healthy boundaries is crucial. It means clearly defining what is acceptable and what is not, ensuring that your needs are met without compromising your sense of self. By setting these boundaries, you assert your power and create an environment where both partners can thrive. Remember, power lies in knowing where you stand and confidently asserting it.
Open communication is another key ingredient in achieving balance and harmony. It involves expressing thoughts, desires, and concerns honestly without fear of judgment or rejection. Cultivating this level of communication empowers you to address issues as they arise and prevent them from festering into resentment or frustration. When both partners feel heard and understood, the power dynamics within the relationship become more balanced.
As you navigate the intricate dance of love and relationships, remember that maintaining healthy boundaries and cultivating open communication are essential tools for finding harmony. Strive for a partnership where power is shared rather than dominated by one party. By doing so, you create an environment conducive to growth, trust, and mutual understanding.
Transitioning now into the subsequent section about 'soulmates and twin flames,' let's explore how these deep connections can further enhance the quest for balance in relationships…
Soulmates and Twin Flames
In the realm of deep connections, soulmates and twin flames offer an intricate tapestry of love and understanding that elevates the quest for balance in relationships. When it comes to soulmate recognition, there is a profound sense of knowing that goes beyond conventional understanding. It's as if a divine force brings two souls together at the perfect moment, guided by the hands of fate. This recognition can be both exhilarating and overwhelming, as you realize that this person is meant to walk beside you on your journey.
Soulmates are not just romantic partners; they are spiritual companions who mirror your deepest desires and challenges. They bring out the best in you, encouraging personal growth and evolution. With them, you experience a level of connection that transcends time and space. It's a feeling of being home.
Twin flames take this connection to another level entirely. They are mirrors of your own soul, reflecting back everything you need to heal and grow. Meeting your twin flame often feels like coming face-to-face with yourself in all your rawness and vulnerability. The intensity can be overwhelming but also immensely transformative.
Recognizing a soulmate or twin flame requires patience and trust in divine timing. Sometimes it takes years for these connections to manifest fully in our lives, but when they do, it's worth every moment of anticipation.
As we delve further into the intricacies of relationships, we explore how trust and communication form the foundation for lasting bonds built on solid ground…
Trust and Communication
Build a strong foundation in your relationships by fostering trust and open communication.
In order to have a successful and fulfilling relationship, it is crucial to build trust with your partner. Trust forms the basis of any healthy relationship, allowing both individuals to feel secure and confident in each other's intentions and actions. Building trust takes time, effort, and consistency. It involves being reliable, honest, and transparent in your words and actions. Show your partner that they can count on you by following through on commitments and being true to your word.
Effective communication is another essential aspect of maintaining a strong bond with your loved one. Communication serves as the bridge that connects hearts and minds, enabling understanding, empathy, and shared growth. Openly expressing thoughts, feelings, desires, and concerns fosters intimacy within a relationship. It allows for effective problem-solving and conflict resolution while also deepening emotional connection.
Developing trust requires active listening skills – truly hearing what your partner has to say without judgment or interruption. Create an environment where they feel safe to share their thoughts openly with you. Encourage open dialogue by asking questions that show genuine interest in their perspective.
Take the time to understand your partner's communication style so that you can effectively meet each other's needs when it comes to expressing emotions or discussing important matters.
By building trust through effective communication techniques, you lay the groundwork for deeper levels of intimacy and passion in your relationship.
Intimacy and Passion
Ignite the fire of passion and deepen your connection through intimate moments that make your heart race and your soul soar. It is in these moments of sensuality and desire that true power lies, for it is through them that you can fully express yourself and connect on a deeper level with your partner.
To nurture emotional intimacy, create an atmosphere that fosters trust and vulnerability. Allow yourselves to be open and honest about your desires, fears, and dreams. Encourage deep conversations that delve into the depths of your souls, creating a bond that transcends the physical realm. Share your fantasies and explore new experiences together, pushing boundaries in a way that excites both of you.
Embrace spontaneity: Surprise your partner with unexpected gestures or adventures that ignite passion instantly.
Prioritize self-care: Take care of yourself physically, emotionally, and mentally to feel confident in expressing your desires.
Explore different forms of touch: Experiment with gentle caresses, passionate kisses, or playful tickles to discover what ignites the most intense sensations.
In this journey towards deeper intimacy and passion, remember that choices lay ahead at every crossroad. While some may lead to uncharted territories filled with excitement and fulfillment, others may require difficult decisions or sacrifices along the way. Transitioning into the next section about 'choices and crossroads', you must evaluate what truly matters to you both as individuals while keeping in mind the shared path you are embarking on together.
Choices and Crossroads
As you delve deeper into the realm of intimacy and passion, you find yourself standing at a crossroads. The choices before you are like divergent paths, each leading to a different destination in your romantic journey.
It is here that the lovers tarot card takes on a profound significance, for it holds the key to understanding the complex web of choices that lie ahead.
In life, we are often faced with important decisions that can shape our future. These choices not only impact our personal lives but also have the power to influence our relationships and connections with others.
The lovers tarot card serves as a guide, illuminating the various life paths that lay open before you.
Will you choose the path of fiery passion and intense desire? Or will you opt for a more balanced approach, seeking harmony and stability in your relationships? The lovers tarot card urges you to consider these options carefully.
Embrace this moment of contemplation as an opportunity for growth and self-discovery. Take your time to weigh the pros and cons, listening to your heart's deepest desires while keeping in mind what truly matters in your pursuit of love.
Remember, dear seeker of power, every decision has consequences – both positive and negative. But fear not! For by consulting the lovers tarot card meanings, you gain insight into how each choice may shape your romantic destiny.
Now let us explore how these choices intertwine with the influence of surrounding cards…
The Influence of Surrounding Cards
Surrounded by a tapestry of intertwined destinies, the choices you make in matters of the heart hold the power to shape your romantic journey. Each tarot card within a spread exerts its unique influence on the situation at hand, and understanding how surrounding cards interact with the Lovers card can provide valuable insight into your love life.
When interpreting tarot spreads, it is crucial to consider how neighboring cards may impact the meaning of the Lovers card. For instance, if placed next to positive cards such as The Sun or The Empress, it signifies harmony and unity in relationships. On the other hand, when surrounded by challenging cards like The Tower or The Devil, it could indicate conflicts or temptations that need to be navigated.
Reversed tarot cards also play a significant role in shaping interpretations. When the Lovers card appears upside-down alongside reversed surrounding cards, it suggests potential disharmony or unbalanced partnerships. It may signify indecisiveness or internal conflicts that need resolution before progress can be made.
As you continue your exploration of love's labyrinthine path, remember that each decision you make holds immense power over your romantic destiny. By carefully analyzing influencing tarot spreads and deciphering reversed cards' meanings, you gain deeper insights into your current situation and can chart a course towards finding love and attracting positive energy.
[Transition sentence: In the next section about 'finding love and attracting positive energy', we will delve further into harnessing these forces for an empowered romantic journey.]
Finding Love and Attracting Positive Energy
Discovering true love and inviting a wave of positive energy into your life is an enchanting journey that holds the promise of transforming your romantic destiny. It all begins with self-love and personal growth, as you must first believe in your own worthiness to attract the love and abundance you desire. By embracing self-care practices, cultivating a positive mindset, and nurturing your passions, you become a magnet for love and positivity.
To manifest love and abundance, it is essential to focus on aligning your energy with what you desire. The Lovers tarot card serves as a powerful tool in this process, guiding you towards finding deep connections and attracting positive relationships. As shown in the table below:
| Manifest Love | Attract Abundance |
| --- | --- |
| Practice gratitude daily | Surround yourself with beauty |
| Visualize your ideal partner | Embrace abundance affirmations |
| Release limiting beliefs | Engage in acts of generosity |
| Trust the universe's timing | Create space for new opportunities |
By incorporating these practices into your daily life, you create an energetic shift that allows love and abundance to flow effortlessly towards you. Remember, the key lies in believing that you are deserving of love and embracing personal growth along the way.
Using the Lovers card in tarot readings can provide further guidance on your journey towards finding true love. It offers insights into potential obstacles or areas for improvement within relationships. By understanding its symbolism and interpreting its messages with intentionality, you can harness its power to navigate through challenges and make informed decisions about matters of the heart.
Transitioning into the subsequent section about 'using the lovers card in tarot readings', let us explore how this card can illuminate your path to lasting love.
Using the Lovers Card in Tarot Readings
Embrace the power of the Lovers card in tarot readings to illuminate your path to lasting love. Allow its symbolism to guide you towards deep connections and fulfilling relationships.
The Lovers card is a potent tool for using tarot for personal growth and understanding the complexities of love. Its imagery represents harmony, unity, and choice, offering valuable insights into your romantic endeavors.
When using the Lovers card in tarot readings, it is essential to explore different interpretations and tap into its profound meaning. This card symbolizes not only romantic partnerships but also the union of opposites within ourselves. It encourages you to embrace both your light and shadow aspects, fostering self-acceptance and growth.
The Lovers card can serve as a mirror for your relationships, reflecting back what needs attention or improvement. It highlights areas of compatibility and challenges that may arise, providing guidance on how to navigate them with grace.
To fully harness the power of this card for attracting positive energy in love, focus on connecting with its energy during your readings. Allow yourself to feel its magnetic pull towards genuine connections by visualizing yourself surrounded by love and warmth.
Additionally, remember that tarot is a tool for self-reflection rather than fortune-telling. Use the Lovers card as a catalyst for introspection – ask yourself what patterns or beliefs might be holding you back from experiencing true love. By acknowledging these limitations, you can work towards releasing them and opening yourself up to new possibilities.
In conclusion, incorporating the Lovers card in your tarot readings offers invaluable insights into finding lasting love. By using tarot for personal growth and exploring different interpretations of this powerful archetype, you can deepen your understanding of relationships while attracting positive energy into your life. Trust in the wisdom of the cards as you embark on a journey towards meaningful connections characterized by depth and fulfillment.
Frequently Asked Questions
How can I use the Lovers card to manifest love in my life?
Using the Lovers card as a manifestation tool empowers you to attract love. Focus on your intentions, visualize yourself in a loving relationship, and take inspired actions towards finding love. Trust the process and believe in your power to manifest it.
What does it mean if the Lovers card appears reversed in a reading?
If the Lovers card appears reversed, it suggests a lack of harmony in your relationships or a difficult choice. Understanding the symbolism of the reversed Lovers card can help you navigate these challenges and regain power in your love life.
Can the Lovers card represent platonic love or friendships?
In the realm of tarot, the Lovers card can indeed symbolize platonic love and friendships. It represents deep connections and the significance of friendship in our lives. Let me tell you a story to illustrate its metaphor…
Are there any specific actions or rituals I can perform with the Lovers card to enhance my romantic relationships?
To enhance your romantic relationships, focus on enhancing intimacy and connecting with your partner. Engage in actions like deep conversations, surprise gestures, or indulging in shared interests to strengthen the bond between you both.
How does the interpretation of the Lovers card differ in different tarot decks?
The portrayal of the lovers card varies in different tarot decks through symbolic imagery, capturing diverse interpretations. Cultural influences also shape how the card is interpreted across regions and traditions, adding depth and richness to its meaning.