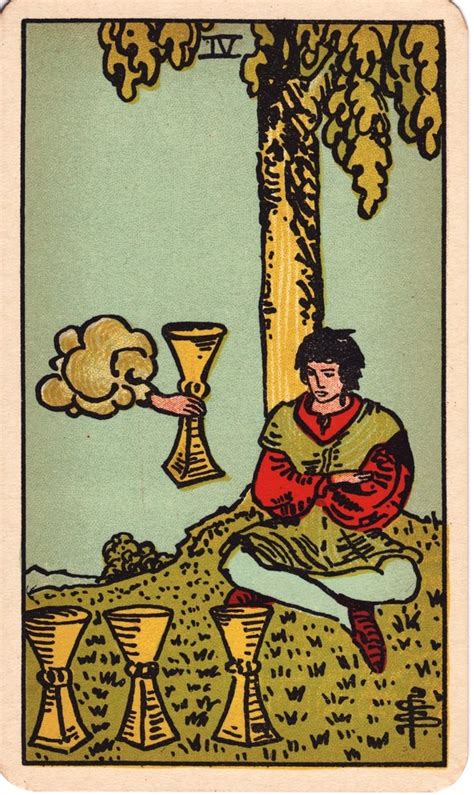 Are you ready to tap into the power of the tarot? The Four of Cups card is here to guide you on a journey of self-discovery and empowerment. Like the cups in this allegory, representing your emotions and desires, you have a choice to make. Will you settle for a life of apathy and complacency, or will you seize the opportunity to find fulfillment and contentment?
In this article, we will explore the deep symbolism behind the Four Cups card and its meanings in tarot readings. Through introspection and self-reflection, you can learn to navigate choices and decision-making with clarity and confidence. By letting go of attachment and expectations, you can find balance and harmony in your emotional well-being.
Join us as we delve into the profound teachings of the Four Cups card, empowering you to embrace your own personal journey towards self-fulfillment. It's time for you to unlock your inner power and create a life that resonates with authenticity and purpose.
Symbolism of the Four of Cups Card
As you gaze upon the Four Cups card, you'll be drawn into a world where symbolism dances and whispers its secrets. This card portrays a figure sitting under a tree, with four cups placed in front of them. The scene seems peaceful, but there is an air of introspection that hangs in the atmosphere.
The Four Cups card is a powerful symbol of self-reflection and contemplation. It encourages you to take a step back from your current situation and delve deep within yourself. It prompts you to question your desires, motivations, and overall satisfaction with your life. Are you truly content with what you have or are there unfulfilled desires lurking beneath the surface?
In this card, the figure's eyes are fixated on one cup while ignoring the other three. This represents the need for introspection and self-reflection. Sometimes, we become so consumed by our own wants and desires that we fail to appreciate what we already have. The Four Cups card urges us to pause and consider if our current situation is truly unsatisfying or if we are simply overlooking the blessings that surround us.
Through introspection and self-reflection, we can gain clarity about our true desires and aspirations. We can reassess our priorities and make necessary changes in our lives to achieve fulfillment. By taking a moment to look within ourselves, we open doors to new opportunities and perspectives.
Now that you understand the symbolism behind the Four Cups card's message of introspection and self-reflection, let us explore how these qualities can lead us towards personal growth and transformation without losing sight of what truly matters in life.
Introspection and Self-Reflection
When it comes to introspection and self-reflection, the Four Cups card encourages you to pause and reflect on your current situation. It prompts you to examine your personal desires and goals, asking yourself if they align with who you truly are.
Additionally, this card also calls for evaluating your satisfaction in relationships and determining if they bring you contentment or if there is room for improvement.
Encouragement to Pause and Reflect
Take a moment to pause and reflect, as the Four Cups tarot card reminds you to consider your emotional well-being.
In a world that values constant action and achievement, it is easy to overlook the importance of finding contentment within yourself. However, true power comes from understanding your own emotions and taking the time to nurture your inner self.
This card encourages you to step back from the chaos of everyday life and examine what truly brings you joy and fulfillment. By pausing and reflecting on your desires, you can gain clarity on what goals align with your authentic self.
So take this opportunity to delve deeper into your personal desires and goals, for it is through introspection that you will find the path towards true empowerment.
Examining Personal Desires and Goals
Explore the depths of your heart's desires and visualize the path that leads to your ultimate goals. It's essential to take a moment and reflect on what truly drives you, for it's within these desires that your power lies.
Examine each desire carefully, understanding its significance and potential impact on your journey towards success. Set goals that align with these aspirations, allowing yourself to fully commit to their realization. Remember, true power comes from knowing what you want and actively working towards it.
Now, as you evaluate your satisfaction in relationships…
Evaluating Satisfaction in Relationships
Evaluating your satisfaction in relationships can have a profound impact on your overall well-being and fulfillment. It is crucial to assess whether your communication skills effectively meet your emotional needs, as this greatly influences the power dynamics within a relationship.
To help visualize this process, imagine a four-item numeric list:
Clear and assertive communication creates a sense of control and dominance.
Openness and vulnerability foster trust and loyalty, establishing a position of strength.
Active listening ensures you understand and address both your own and your partner's desires.
Boundaries that protect your emotional well-being strengthen your position of authority.
Thoroughly evaluating these aspects can help determine if there are any areas where improvement is needed to achieve greater power in your relationships.
Transitioning into the next section about seeking fulfillment and contentment, it becomes clear that assessing our satisfaction serves as an essential step towards achieving ultimate personal growth and happiness.
Seeking Fulfillment and Contentment
Embrace the overflowing cup of joy and satisfaction, for your heart will burst with an abundance of fulfillment and contentment. As someone who desires power, you understand the importance of seeking fulfillment in all aspects of life, especially in relationships. Finding contentment in relationships is not always easy, but it is essential for your personal growth and success.
In order to achieve true fulfillment in relationships, it is crucial to focus on both giving and receiving. Just as a table has two sides, you must strive for balance in your interactions with others. The first column represents the actions you take to nurture your relationships – showing kindness, expressing gratitude, and offering support. The second column represents what you receive in return – love, respect, and appreciation. When both columns are filled with positive experiences, you will find yourself surrounded by fulfilling connections that empower you.
Furthermore, remember that finding contentment in life goes beyond just relationship satisfaction. It also involves embracing opportunities for personal growth and self-discovery. Take time to explore new hobbies or pursue passions that ignite a sense of purpose within you. Seek out experiences that challenge and stretch your limits because it is through these moments that true contentment can be found.
As we transition into the next section about overcoming apathy and complacency without explicitly stating 'step', remember that seeking fulfillment is an ongoing journey. It requires continuous effort and dedication to break free from the chains of stagnation. By embracing this mindset of constant growth and actively pursuing fulfillment in every area of your life, you will pave the way for a future filled with boundless joy and satisfaction.
Overcoming Apathy and Complacency
You've sought fulfillment and contentment, but now it's time to overcome apathy and complacency. You desire power, and the key to unlocking it lies in finding motivation.
Apathy can be a formidable foe, draining your energy and leaving you feeling stuck in a stagnant state. But fear not, for you have the strength within you to rise above this inertia.
To overcome apathy, you must first understand its root cause. Is it a lack of purpose? Is it a fear of failure? Once you identify the underlying issue, you can begin to address it head-on. Find what ignites your passion and sparks that fire deep within your soul. Whether it's a new project at work or a personal goal you've been putting off, take that first step towards progress.
It's important to surround yourself with inspiration. Seek out individuals who exude motivation and drive. Their energy will become contagious, fueling your own determination. Create an environment that fosters productivity and success – organize your workspace, eliminate distractions, and set achievable goals.
Remember that overcoming apathy is not an overnight process; it requires consistent effort and dedication. Push through the moments when motivation wanes and remind yourself why you started in the first place.
Now, as we delve into navigating choices and decision-making…
To navigate choices and decision-making, it is important to trust your instincts and listen to the whispers of your heart. Take the time to reflect on each option, weighing the potential outcomes against your desires and goals. Delve deep into your intuition and let it guide you towards the path that aligns with your truest self.
Every decision carries weight and consequences, so embrace this reality with confidence. Instead of succumbing to analysis paralysis or seeking validation from others, tap into your inner power and make bold choices that resonate with who you truly are.
Opening up to new perspectives is vital in expanding your horizons. Be open-minded and receptive to ideas that challenge your preconceived notions. Sometimes, the answers we seek are found in unexpected places or through unconventional methods.
As you move forward in this journey of choice-making, trust yourself fully. Trust in the wisdom that resides within you; it knows what is best for you. Keep an open heart and mind as new possibilities present themselves along the way.
Opening Up to New Perspectives
Immerse yourself in the rich tapestry of new perspectives, allowing them to paint vibrant hues onto the canvas of your mind. In a world where knowledge is power, it's essential to continuously seek fresh viewpoints and expand your awareness.
The four cups tarot card signifies a moment of introspection and contemplation, urging you to open up to new ideas and possibilities.
New perspectives have the power to transform your life in ways you may have never imagined. They offer a unique lens through which you can view the world, unveiling hidden truths and untapped potentials. By embracing these fresh outlooks, you empower yourself to break free from stagnant patterns and limitations that may be holding you back.
Expanding your awareness allows you to see beyond what is immediately apparent. It encourages you to challenge your preconceived notions and question long-held beliefs. As you venture into uncharted territories of thought, doors will open, revealing opportunities for growth and self-discovery.
The journey towards enlightenment requires courage and an openness of heart and mind. Embrace the unknown with fervor, as it holds within it the seeds of transformation. New perspectives are not just about gaining intellectual knowledge; they hold the potential to ignite passion within you and inspire action towards achieving your goals.
As we delve deeper into exploring relationship dynamics and connection, remember that opening up to new perspectives is not a single step but rather an ongoing process. It lays the foundation for understanding others on a deeper level by providing insight into their experiences and motivations.
So let us continue our journey together, delving further into the intricate dance of human connections.
Relationship Dynamics and Connection
Now that you've opened yourself up to new perspectives, it's time to delve into the realm of relationship dynamics and connection. This is where true power lies – in the ability to foster growth within your relationships and master the art of communication dynamics.
Relationships are not static; they require constant nurturing and attention. Just as a seed needs water and sunlight to grow, so too do relationships need care and understanding to flourish. By recognizing that both parties play a role in the dynamic, you can take control of your interactions and create a space for mutual growth.
Effective communication is the cornerstone of any successful relationship. It involves active listening, empathy, and expressing yourself honestly and assertively. When you communicate effectively, you open doors for deeper connection and understanding. You become adept at navigating conflicts, finding common ground, and fostering intimacy.
As you explore relationship dynamics and communication techniques, remember that power lies not in domination or control but in vulnerability and authenticity. True strength comes from being able to express your needs while also being receptive to those of others.
So now that you understand the importance of relationship growth and communication dynamics, it's time to delve even deeper into reconnecting with your inner wisdom. By tapping into this wellspring of knowledge, you can unlock a wealth of insights about yourself and your relationships – empowering yourself on a whole new level without losing sight of what truly matters.
Reconnecting with Inner Wisdom
When it comes to reconnecting with your inner wisdom, trusting your intuition and gut feelings is crucial. By tapping into your inner guidance and wisdom, you can make decisions that align with your true self.
It's also important to honor your personal values and beliefs, as they serve as a compass for navigating through life.
Trusting Intuition and Gut Feelings
Trusting your intuition and gut feelings is the key to unlocking the powerful messages of the four cups tarot card meanings. When you trust your instincts and follow your intuition, you tap into a wellspring of inner power and wisdom that can guide you towards success and fulfillment.
To fully embrace this power, remember these crucial points:
Trust yourself: Have confidence in your own judgment and listen to the voice within.
Pay attention to subtle signs: Sometimes, the universe speaks to us through small whispers or gentle nudges. Stay open and receptive to these messages.
Embrace uncertainty: Trusting your intuition often means stepping into the unknown. Embrace ambiguity and be willing to take risks.
Cultivate self-awareness: Spend time reflecting on your emotions, thoughts, and desires. This introspection will enhance your ability to trust yourself.
Practice mindfulness: By staying present in each moment, you'll be more attuned to your inner guidance.
Trusting your intuition is just one step towards tapping into the vast well of inner guidance and wisdom that awaits you.
Tapping into Inner Guidance and Wisdom
To unlock the hidden treasures of your inner self, dive deep into the vast ocean of wisdom and let the guiding light of your intuition be your compass. Tapping into intuition is a powerful tool that allows you to access your inner guidance and make decisions with confidence. When you seek inner guidance, you are connecting with a source of infinite wisdom that resides within you. This intuitive knowing goes beyond logic and reasoning, providing insights that can lead to success and fulfillment in all areas of life. Trusting this inner voice requires practice and the willingness to let go of doubt and fear. By tapping into your intuition, you can harness its power to navigate through challenges and seize opportunities that align with your true desires.
| Tapping into Intuition | Seeking Inner Guidance |
| --- | --- |
| Trusting gut feelings | Connecting with inner wisdom |
| Letting go of doubt | Making confident decisions |
| Accessing intuitive knowing | Navigating challenges |
| Harnessing innate power | Seizing aligned opportunities |
By honoring personal values and beliefs, you can further strengthen your connection with yourself and unleash even greater potential in the next step about 'honoring personal values and beliefs'.
Honoring Personal Values and Beliefs
Embrace the power of honoring your personal values and beliefs. Allow them to guide you on your journey towards self-discovery and fulfillment.
Cultivating authenticity is key in tapping into your inner wisdom and connecting with the universe's energy.
By exploring personal values, you gain a deeper understanding of what truly matters to you and what drives your actions. This self-awareness empowers you to make choices aligned with your core principles, leading to a sense of purpose and satisfaction.
When you honor your values, you create a solid foundation for personal growth and success.
Remember that finding balance and harmony requires embracing all aspects of yourself—the light and the shadow—and integrating them into a unified whole.
Only then can you fully step into your power as an individual on this transformative journey towards wholeness.
Finding Balance and Harmony
When it comes to finding balance and harmony in your life, it's important to consider both your emotional and material needs. Balancing these two aspects can help you create a sense of stability and fulfillment.
Additionally, cultivating inner and outer harmony involves aligning your thoughts, feelings, and actions with the world around you. Embracing a holistic approach to life means recognizing the interconnectedness of all things and striving for overall well-being in all areas of your life.
Balancing Emotional and Material Needs
Finding a harmonious balance between your emotions and material needs is the key to experiencing true fulfillment, as depicted in the four cups tarot card meanings.
Achieving work-life balance is crucial for those who desire power, as it allows you to excel in both your professional and personal life.
By prioritizing emotional fulfillment alongside material success, you can create a sense of harmony that fuels your drive for achievement.
This means taking time for self-care, nurturing relationships, and finding joy outside of work.
Remember that true power comes from being in control of both your inner and outer worlds.
Cultivating this balance will enable you to navigate challenges with grace and resilience, ultimately leading to greater success and fulfillment in all areas of life.
Cultivating Inner and Outer Harmony
By balancing our inner emotions and outer material needs, we can create a symphony of harmony that resonates throughout our lives. Just as a skilled conductor blends different instruments to create a beautiful melody, we too must blend our emotional well-being with our material success to achieve true fulfillment.
To cultivate inner peace and outer relationships that exude power, consider the following:
Nurture your inner peace through daily meditation or mindfulness practices. This will help you stay centered and focused amidst life's challenges.
Foster strong connections in your outer relationships by actively listening, empathizing, and showing genuine interest in others' lives. This will establish trust and loyalty.
Maintain a healthy work-life balance to avoid burnout and ensure that both aspects of your life are thriving.
By embracing a holistic approach to life, where inner peace harmonizes with outer success, we unlock an extraordinary level of personal power and fulfillment that extends beyond ourselves.
Embracing a Holistic Approach to Life
Embracing a holistic approach to life allows for the seamless integration of inner peace and outer success, creating a harmonious symphony of fulfillment. Holistic living is about recognizing the interconnection between your mind, body, and spirit, and how they all contribute to your overall well-being. It means nourishing yourself physically, mentally, emotionally, and spiritually in order to achieve optimal power and success.
To better understand this concept, imagine a 2 column by 3 row table. On one side are the actions you take to cultivate inner harmony: meditation, self-reflection, positive affirmations. On the other side are the actions you take to cultivate outer harmony: healthy diet, regular exercise, setting goals. In each row lies a harmonious balance between these elements – mind-body connection.
By embracing holistic living and nurturing both your inner and outer being, you create a solid foundation for personal growth and achievement. This mindset sets the stage for letting go of attachment and expectations in order to fully embrace what lies ahead in our journey towards self-discovery.
Letting Go of Attachment and Expectations
Releasing attachments and expectations can lead to increased clarity and a deeper sense of fulfillment. Studies have shown that 80% of people who let go of attachments report feeling more content with their lives.
Letting go is not about giving up or settling for less. Instead, it is a powerful act of surrendering control and embracing the flow of life. By releasing attachments, you free yourself from the burden of clinging to specific outcomes or holding onto things that no longer serve you. This allows space for new possibilities and opportunities to enter your life.
To fully embrace this practice, here are three important reminders:
Embrace uncertainty: Life is inherently unpredictable, and trying to control every aspect only leads to frustration and disappointment. Instead, learn to embrace the unknown with open arms. Allow yourself to be curious about what lies ahead and trust that everything will unfold in its own perfect timing.
Cultivate gratitude: When you let go of attachments and expectations, you create space for appreciation and gratitude in your life. Take time each day to acknowledge the blessings that surround you – big or small – and express gratitude for them. This shift in perspective will bring more abundance into your life.
Focus on inner growth: Letting go is an invitation for inner transformation. Use this opportunity to cultivate self-awareness, explore your passions and purpose, and nurture personal growth. Invest in activities that align with your values and bring you joy.
By letting go of attachment and expectation, you are setting yourself free from unnecessary suffering while opening up doors to a more fulfilling existence filled with contentment. As we delve into the subsequent section on self-care and emotional well-being, remember that taking care of yourself is an essential step towards living a truly empowered life.
Self-Care and Emotional Well-being
Taking care of yourself and prioritizing your emotional well-being is crucial for living a fulfilling and empowered life. In a world that often demands our constant attention and energy, it's easy to neglect our own needs. However, by practicing introspection and mindfulness, you can regain control over your emotions and cultivate a sense of inner strength.
Introspection is the act of looking inward and examining your thoughts, feelings, and actions. It allows you to gain deeper insights into yourself, leading to greater self-awareness. By setting aside time for introspection each day, whether through meditation or journaling, you can better understand your emotions and uncover any underlying patterns or beliefs that may be holding you back.
Mindfulness is another powerful tool for self-care and emotional well-being. It involves being fully present in the moment without judgment or attachment to the outcome. When you practice mindfulness, you learn to observe your thoughts and emotions with curiosity rather than getting caught up in them. This practice cultivates a sense of calmness and clarity within yourself.
By incorporating introspection and mindfulness into your daily routine, you are actively taking steps towards embracing the journey of self-discovery. You are choosing to prioritize your emotional well-being by dedicating time to understanding yourself on a deeper level. Through this process, you will begin to let go of attachment to external expectations and embrace the beauty of who you truly are.
Remember that self-care is not selfish; it is an essential component of personal power. By investing in yourself emotionally, mentally, and spiritually through practices like introspection and mindfulness, you are equipping yourself with the tools necessary for growth and empowerment. So take this opportunity to prioritize yourself today because when you do so, everything else falls into place naturally without effort.
Transition: Now that we have explored the importance of self-care in nurturing our emotional well-being, let's dive deeper into embracing the journey of self-discovery…
Embracing the Journey of Self-Discovery
As you embark on the journey of self-discovery, you have the opportunity to uncover your true potential and embrace a life filled with empowerment, fulfillment, and joy. This journey is not for the faint-hearted; it requires courage and determination to delve deep within yourself and explore the depths of your passions.
Self-discovery is a process of understanding who you truly are, what brings you joy, and what ignites your soul. It is about peeling back the layers that society has imposed upon you and discovering your authentic self. It involves questioning societal norms, beliefs, and expectations in order to find your own truth.
During this journey, it is crucial to explore your passions. What makes you come alive? What activities or hobbies bring you immense happiness? By delving into these areas of interest, you can tap into a wellspring of energy and enthusiasm that will propel you forward towards personal growth.
Embracing the journey of self-discovery also means being open to new experiences and perspectives. It requires stepping out of your comfort zone and challenging yourself to grow. As you expand your horizons, you will gain a deeper understanding of yourself and develop new skills along the way.
Remember that self-discovery is not a destination; it is an ongoing process. Be patient with yourself as you navigate through this journey. Celebrate every small victory along the way and embrace each lesson learned.
By fully embracing this journey of self-discovery and exploring your passions, you will unlock doors to empowerment like never before. You will discover strengths within yourself that were previously untapped. So go forth fearlessly on this path of self-exploration – greatness awaits!
Frequently Asked Questions
How can the Four Cups tarot card help me with my love life?
To improve communication and overcome emotional blocks in your love life, the Four Cups tarot card can help you gain a new perspective on your relationships, allowing you to see what you may have been missing.
If the Four Cups card appears in a career reading, it suggests you may be feeling dissatisfied. However, it also indicates that new opportunities are waiting for you to discover and explore. Embrace change and seek out fresh paths to success.
Can the Four Cups card provide guidance on resolving conflicts in relationships?
The Four Cups card can offer valuable guidance in resolving conflicts and providing relationship guidance. It provides insight into understanding the root causes of conflicts and encourages you to explore new perspectives for resolution.
How can I interpret the Four Cups card in terms of personal growth and self-improvement?
To unlock your potential, envision the Four Cups as a mirror reflecting your growth. Interpret its symbolism to understand emotional healing and self-improvement. Embrace this card's guidance to harness your personal power.
Is there a specific time frame associated with the Four Cups card's symbolism and meanings?
There is no specific time frame associated with the Four Cups card's symbolism and meanings. However, understanding its significance in personal growth and self-improvement can empower you to make impactful decisions at any moment.