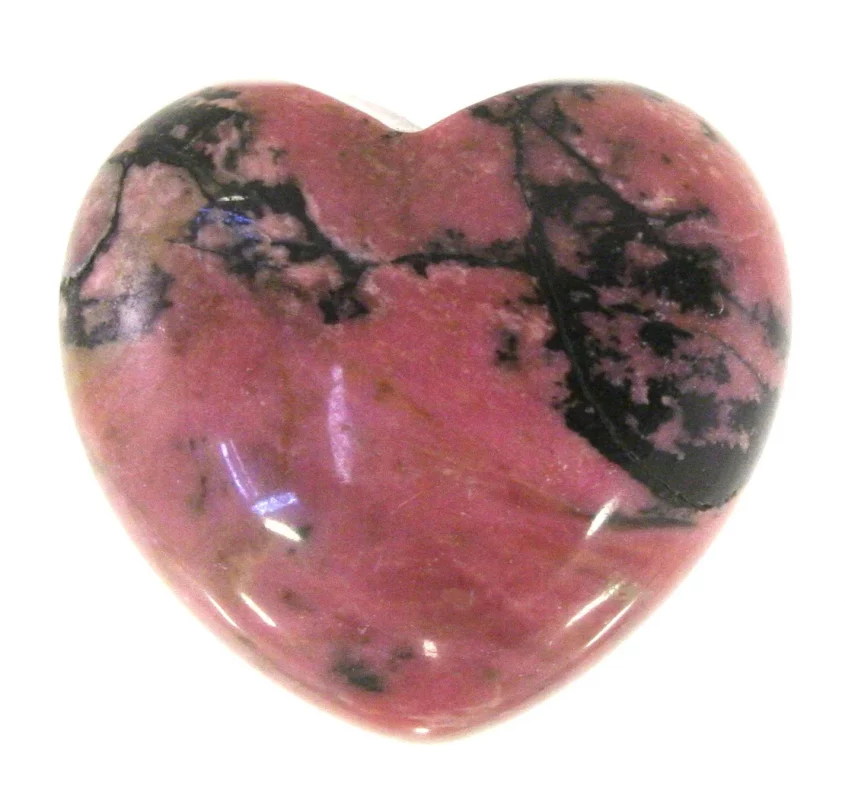 Are you ready to tap into the power of the universe? To harness the energy that flows through ancient stones and connect with your deepest self? Then let me introduce you to rhodonite crystal – a captivating gem that holds within it a world of healing, love, and emotional balance.
Like gazing at a breathtaking sunset or standing in awe before a majestic mountain peak, rhodonite crystal beckons you on a journey of self-discovery. Its origins lie deep within the earth, where over millions of years it formed under intense pressure. This exquisite gemstone boasts a rich pink color with veins of black, creating a striking contrast that mirrors the duality of life itself.
But its beauty is not just skin deep. Rhodonite crystal possesses remarkable healing properties that can bring harmony to your mind, body, and soul. It has been known to promote emotional balance, soothe anxiety and stress, and ignite feelings of love and compassion within oneself.
So whether you seek inner peace or wish to amplify your connection with others, let rhodonite crystal be your guide on this transformative journey towards personal empowerment. Open yourself up to its energy and watch as miracles unfold before your eyes.
Origins and Formation of Rhodonite Crystal
The rhodonite crystal, with its vibrant pink hue and intricate patterns, was formed deep within the Earth's crust through a fascinating process of heat and pressure. Its formation process is truly remarkable, as it undergoes a metamorphic transformation that imbues it with both beauty and power.
This exquisite crystal originates from geological origins that date back millions of years. It begins its journey as manganese-rich sediments that gradually accumulate in sedimentary rocks over time. As these rocks are subjected to immense heat and pressure deep within the Earth's crust, the minerals within them begin to undergo a profound transformation.
During this transformative process, the rhodonite crystal is infused with energy and vitality. The combination of intense heat and pressure causes the manganese-rich sediments to recrystallize into a beautiful pink gemstone known as rhodonite. This unique mineral forms in intricate patterns, capturing the essence of strength and resilience.
As you hold this magnificent crystal in your hands, you can feel its ancient wisdom resonating through your being. Its vibrant pink color symbolizes love, compassion, and vitality. The rhodonite crystal is not only an aesthetic delight but also a powerful ally on your spiritual journey towards self-discovery and personal empowerment. Embrace its gentle energy as you venture forth into new realms of possibility, for the rhodonite crystal holds within it the secrets of creation itself.
Physical Characteristics and Appearance of Rhodonite Crystal
Imagine holding in your hand a delicate pink gemstone, with the smoothness of satin and the gentle glow of a rose at dawn. This is the captivating physical appearance of a rhodonite crystal. Its beauty goes beyond aesthetics, as it possesses remarkable healing properties that can benefit both your mind and body.
Rhodonite is renowned for its metaphysical properties, making it an essential tool for those seeking spiritual growth and transformation. It has a powerful energy that promotes emotional healing, helping to release past traumas and wounds. By working with this crystal, you can begin to let go of negative emotions that hold you back from reaching your full potential.
The mesmerizing pink color of rhodonite symbolizes love and compassion. It encourages self-love and nurtures relationships by fostering understanding and forgiveness. When held or worn close to the heart, this crystal creates a sense of calmness and balance within oneself.
Rhodonite's healing properties extend beyond emotional well-being; they also have physical benefits. It is believed to support the immune system, aiding in recovery from illnesses or injuries. Additionally, it is said to alleviate inflammation in organs such as the lungs or joints.
Incorporating rhodonite into your life can bring about personal empowerment and promote overall well-being. Let its intuitive energy guide you towards a path filled with love, healing, and strength.
Healing Properties and Benefits of Rhodonite Crystal
With its captivating physical appearance, the delicate pink gemstone of rhodonite offers a multitude of healing properties and benefits for both the mind and body. Rhodonite is known for its powerful metaphysical properties that can bring balance, harmony, and vitality to your life. Here are three remarkable ways in which this crystal can transform your well-being:
Emotional Healing: Rhodonite is a stone of compassion and forgiveness, making it ideal for those seeking emotional healing. It helps release past traumas and negative emotions, allowing you to let go of grudges and find inner peace. By wearing or meditating with rhodonite, you can experience deep emotional healing and open your heart to love.
Physical Well-being: This crystal is believed to have a positive impact on physical health by promoting good circulation and detoxification. It is also said to enhance the immune system, making it an excellent choice for boosting overall wellness.
Spiritual Growth: Rhodonite has long been associated with spiritual growth and self-discovery. Its energy encourages self-reflection, helping you uncover hidden talents and strengths within yourself. By working with this crystal, you can deepen your connection with the divine and embark on a journey of personal transformation.
Incorporating rhodonite into your daily life can bring about profound changes in your mental, emotional, and physical well-being. Allow its gentle yet powerful energy to guide you towards healing, balance, and empowerment.
Emotional Balance and Love Promotion with Rhodonite Crystal
Experience the transformative power of rhodonite as it brings you emotional balance and promotes a love-filled life beyond your wildest dreams. This exquisite crystal holds the key to emotional healing, allowing you to release past traumas and embrace a future filled with self-love and compassion.
When you hold rhodonite in your hand, its energy flows through your being, gently soothing any emotional wounds that may be holding you back. It acts as a gentle reminder that you are deserving of love and happiness, helping you let go of negative emotions such as anger, resentment, and fear. As these emotions melt away, you will find yourself experiencing a sense of calmness and tranquility like never before.
Rhodonite also encourages self-love by reminding you to prioritize your own needs and well-being. It teaches you that loving yourself is not selfish but necessary for personal growth and fulfillment. With this newfound self-love, relationships become more harmonious as you attract people who truly appreciate and value you.
Allow yourself to embrace the power of rhodonite today and experience the profound emotional healing it offers. Let it guide you on a journey towards self-discovery, acceptance, and love. You deserve nothing less than a life filled with joy, abundance, and unconditional love.
Uses of Rhodonite Crystal in Crystal Healing Practices
Discover the transformative potential of utilizing rhodonite crystal in your crystal healing practices to unlock emotional balance and promote a love-filled life beyond your wildest dreams. Rhodonite crystal holds immense power when it comes to meditation and feng shui, making it an essential tool for those seeking spiritual growth and harmony.
When using rhodonite crystal in meditation, its gentle yet potent energy helps you delve deep into your emotions, allowing you to release any unresolved pain or trauma. By holding this beautiful stone close to your heart or placing it on your third eye chakra, you can experience a profound sense of calmness and inner peace. The rhodonite's soothing vibrations encourage self-love and compassion, creating a nurturing environment where healing can take place.
In feng shui practices, rhodonite crystal is known for its ability to bring love and harmony into relationships. Placing this stone in the southwest corner of your home or bedroom promotes loving energy between partners and enhances communication. It also helps heal emotional wounds caused by past relationships, fostering forgiveness and understanding.
By incorporating rhodonite crystal into your daily rituals, whether through meditation or feng shui practices, you invite powerful transformation into your life. Embrace the wisdom of this remarkable stone as it guides you towards emotional balance, love promotion, and a life filled with limitless possibilities.
How to Clean and Care for Rhodonite Crystal
Nurturing your precious gemstone is akin to tending to a delicate flower, ensuring its vibrancy and beauty are maintained. To keep your Rhodonite crystal at its best, it is essential to clean and care for it regularly. This will not only preserve its stunning appearance but also enhance its powerful energy.
Rhodonite crystal benefits:
Emotional Healing: Rhodonite crystal properties are known for their ability to heal emotional wounds and promote forgiveness. It helps release anger, resentment, and fear, allowing you to embrace love and compassion.
Balance and Harmony: By balancing the yin-yang energies within you, Rhodonite creates a sense of harmony in your life. It brings stability and promotes self-love, empowering you with confidence.
To clean your Rhodonite crystal:
Gently rinse it under running water to remove any energetic impurities that may have accumulated.
Use a soft cloth or brush to gently wipe away any dirt or debris from the surface.
To care for your Rhodonite crystal:
Store it in a safe place where it won't be scratched or damaged.
Recharge its energy by placing it under moonlight overnight or using visualization techniques.
By following these simple steps, you can ensure that your Rhodonite crystal remains radiant and continues to provide you with its incredible benefits. Embrace the power of this beautiful gemstone as you embark on your spiritual journey towards healing and transformation
Popular Rhodonite Crystal Jewelry and Décor
Now that you know how to clean and care for your precious rhodonite crystal, let's explore the world of popular rhodonite crystal jewelry and décor. Embrace the power of this beautiful stone by adorning yourself with stunning rhodonite crystal jewelry or enhancing your living space with captivating rhodonite crystal home décor pieces.
Incorporating rhodonite crystal into your personal style not only adds a touch of elegance but also harnesses the metaphysical properties of the stone. From delicate necklaces and bracelets to bold statement rings, there is a wide range of popular rhodonite crystal jewelry available to suit every taste and preference. These accessories are not only fashionable but also serve as powerful reminders to stay grounded, promote love, and heal emotional wounds.
When it comes to home décor, rhodonite crystal can bring an air of sophistication and tranquility to any room. Consider placing polished rhodonite crystals on shelves or mantles, or opt for larger decorative pieces such as bookends or sculptural objects. The deep pink hues mixed with dark veins create a mesmerizing visual appeal while promoting harmony and balance within the space.
By incorporating popular rhodonite crystal jewelry and décor into your life, you invite the energy of love, healing, and power into every aspect. Embrace the beauty of this remarkable stone as you adorn yourself and transform your living spaces into serene sanctuaries.
Where to Find and Buy Rhodonite Crystal
Explore the enchanting world of rhodonite and uncover the perfect source to purchase this captivating stone. If you're looking for the best online stores that offer a wide selection of rhodonite crystals, look no further. These exquisite gemstones possess remarkable properties that can empower your life in various ways.
One of the top online destinations to find and buy rhodonite crystal is Crystal Universe. They have an extensive collection of high-quality rhodonite pieces, ranging from polished stones to beautiful jewelry. Their dedication to sourcing ethically and responsibly ensures that each piece holds the true essence of this powerful crystal.
Another exceptional online store is The Crystal Council. With their vast knowledge about crystals, they curate an impressive array of rhodonite products that cater to diverse needs and preferences. From raw chunks for energy healing practices to elegant pendants for personal adornment, they offer something for everyone seeking the power of rhodonite.
Rhodonite crystal properties include promoting emotional healing, fostering compassion, and enhancing self-love. Its beautiful pink hues with black streaks make it a visually striking stone that exudes strength and elegance.
When it comes to finding and purchasing rhodonite crystal, these online stores provide a gateway into its mystical realm. Embrace the power of this enchanting stone in your life by exploring these trusted sources today.
Rhodonite Crystal in History and Culture
Throughout history and across various cultures, the captivating pink and black hues of rhodonite have been revered for their powerful healing properties and symbolized strength and elegance. The symbolism associated with rhodonite crystal dates back to ancient civilizations, where it was highly valued for its ability to promote love, compassion, and emotional healing. In Greek mythology, it is believed that the stone was formed from the blood of Adonis, the god of beauty and desire. This connection to love has carried through the ages, making rhodonite a popular choice for those seeking to attract or enhance romantic relationships.
In addition to its association with love, rhodonite crystal has also been linked to inner strength and balance. Ancient civilizations recognized its ability to calm emotional turmoil and promote forgiveness. It is said that wearing or meditating with rhodonite can help one release negative emotions such as anger or resentment while promoting self-love and acceptance.
Rhodonite can be found in ancient jewelry pieces from various cultures including Egypt, Greece, China, and Russia. Its use in these societies demonstrates its enduring significance throughout history. Whether used for adornment or spiritual purposes, rhodonite crystal continues to be cherished by those who seek its transformative energies. Embrace the power of this magnificent stone as you embark on your own journey towards healing and personal growth.
Personal Experiences and Testimonials with Rhodonite Crystal
From ancient civilizations to modern times, individuals have shared their personal stories and testimonials about the transformative power of this captivating pink and black stone. Here are four remarkable personal experiences and testimonials that highlight the profound effects of rhodonite crystal:
Enhanced Emotional Healing: Many people have reported a deep sense of emotional healing after working with rhodonite crystal. They describe feeling a release of past traumas and negative emotions, allowing them to move forward with clarity and peace.
Strengthened Relationships: Rhodonite crystal has been known to promote love, compassion, and forgiveness among individuals in relationships. People who have incorporated this stone into their daily practice have experienced improved communication, understanding, and harmony within their partnerships.
Increased Self-Love: Individuals struggling with self-worth or self-acceptance have found solace in rhodonite crystal. This stone is believed to help cultivate self-love by encouraging self-care practices, boosting confidence, and fostering a deep connection with one's true essence.
Heightened Intuition: Many individuals who work with rhodonite crystal claim an increase in intuitive abilities. They report heightened awareness, clearer insights, and a stronger connection to their inner guidance system.
Incorporating rhodonite crystal into your spiritual journey can bring forth powerful personal transformations as witnessed through these inspiring experiences and testimonials from those who have embraced its energy. Allow yourself to tap into the potential of this extraordinary gemstone and unlock your own inner power for growth and change.
Frequently Asked Questions
Are there any side effects or precautions to consider when using rhodonite crystal for healing purposes?
When using rhodonite crystal for healing, it's important to be aware of any potential side effects or precautions. Take care to listen to your body and discontinue use if you experience any negative reactions. Trust your intuition and seek guidance from a knowledgeable source. Remember, true power comes from within.
Can rhodonite crystal help with specific health conditions, such as anxiety or insomnia?
Rhodonite crystal can help with anxiety and insomnia by promoting emotional balance and providing stress relief. It is a powerful tool to harness your inner strength, allowing you to overcome obstacles and find peace within yourself.
Is rhodonite crystal safe to use during pregnancy or while breastfeeding?
During pregnancy and while breastfeeding, it's important to prioritize the safety of both you and your baby. It is recommended to consult with a healthcare professional before using any crystals, including rhodonite crystal.
Are there any specific rituals or practices associated with using rhodonite crystal for emotional healing?
Engage in powerful rituals for emotional healing. Discover how to use rhodonite crystal and its benefits, such as promoting self-love and releasing past trauma. Incorporate it into your daily routine for transformative self-care. Unleash your inner power!
How does rhodonite crystal compare to other crystals in terms of its healing properties and benefits?
Comparing the healing properties and benefits of rhodonite crystal to other crystals reveals its remarkable effectiveness in addressing emotional trauma. Its energy is potent, offering power and transformation to those seeking profound healing experiences.
Conclusion
Congratulations on completing your journey through the mystical world of Rhodonite Crystal! You have delved into its origins, marveled at its physical beauty, and discovered its incredible healing properties. By incorporating this captivating crystal into your life, you will unlock emotional balance and promote love in your heart. Embrace the power of Rhodonite Crystal in your crystal healing practices and adorn yourself with stunning jewelry and décor. Seek out the enchanting allure of Rhodonite Crystal to connect with its rich history and culture. Soar on the wings of personal experiences and testimonials as you embark on a transformative path with Rhodonite Crystal by your side.